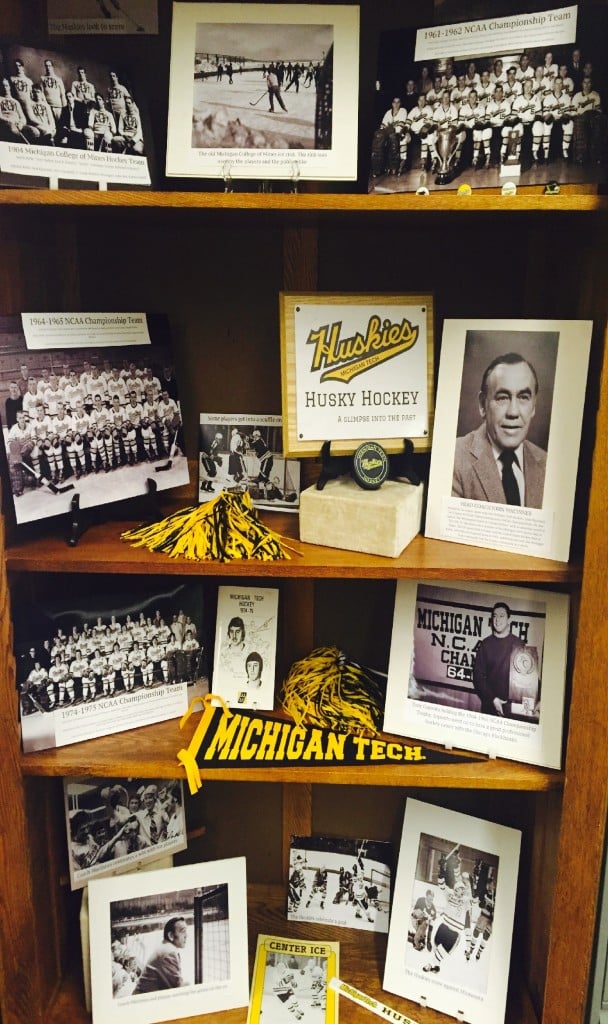 Michigan Technological University's Van Pelt and Opie Library welcomes alumni, family and friends to visit the library for special services and exhibits during Alumni Reunion. The Michigan Technological University Archives and Copper Country Historical Collections staff encourages visits and will have expanded hours.
SPECIAL HOURS DURING ALUMNI REUNION
The library will be open on Saturday, August 8 from 8:30 a.m. to 6:00 p.m. The archives reading room will be open Saturday, August 8 from 8:30 a.m. to 5:00 p.m.
ARCHIVES TOURS
Saturday, August 8
Walk-in between the hours of 10 a.m. and 12 p.m. for a behind-the-scenes tour of the stacks. Our Senior Archivist will offer 15 minute tours to talk about what we do in the archives and to show off some of the more popular collections.
EXHIBITS
Husky Hockey: A Glimpse into the Past
Location: Archives Reading Room
To coincide with Alumni Reunion and the Hockey Reunion, our new exhibit features a look at the history of men's ice hockey on campus. Memorabilia and photographs throughout the years showcase the glory and challenges of the program throughout the years. A prominent photograph of the 1964-1965 NCAA Men's Ice Hockey team pays homage to the fiftieth anniversary of the winning season.
Yearbooks and University Publications
Location: Archives Reading Room
Yearbooks and other university books are available for browsing in one of the archives' book case displays.  This is a nearly complete range of Keweenawan yearbooks from 1924-2002 and a copy of the Engineer from 1915. The display case also includes popular university publications such as the book Michigan Tech Centennial 1885-1985, alumni bulletins from the Michigan College of Mining and Technology (MCMT), the MCMT Freshman Bible, and various years of the University's Winter Carnival Pictorial. Also available for viewing: Lode on microfilm: 1921-2005 (digital copies of the Lode from 2009-2014 available on their website: http://issuu.com/michigantechlode), Michigan Tech vertical files: newspaper clippings and printed ephemera related to campus activities, sports, organizations, and academics, and Michigan Tech photo vertical files: photos related to campus activities, sports, organizations, and academics. Photocopies are available.