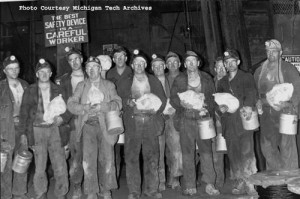 The archives will be closed Thursday, November 26 and Friday, November 27 for Thanksgiving break. Normal hours of operation will resume on Monday, November 30.
This year (and every year, honestly) we are thankful for the Keweenaw Digital Archives. The image featured above shows workers from the Calumet Division's Ahmeek Number 3 posing with the turkeys they had received for safety awards. Under the Calumet Division's safety award program, this means the men worked for 21 months without a disqualifying compensable accident.
Happy Thanksgiving everyone!