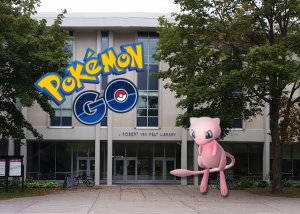 Calling teams Valor, Mystic and Instinct!
Since early July, Pokémon have been roaming all over campus thanks to Pokémon Go, a new location-based mobile game developed by Niantic. People of all ages have been joining the fun, exploring various Pokéstops and Gyms around Michigan Tech and the Copper Country. The augmented reality game is causing players to see the local landscape in a whole new way.
Taking a break from catching wild Pokémon in the stacks, the staff of the Michigan Technological University Archives and Copper Country Historical Collections would like to invite players to Pokémon Go Back in Time on Wednesday, July 27. From 2:30-3:30 p.m. the Michigan Tech Archives will set up a refreshment table on the John Rovano Plaza, the garden patio adjacent to the Van Pelt and Opie Library. We will set some lures at nearby Pokéstops to attract as many Pokémon as possible. In addition, we will be giving away our newly developed brochure which advertises several Pokéstops at Michigan Tech and offers a little bit of historic information about each stop. Catch Pokémon and catch a glimpse of the past at the same time!
This event will take place rain or shine. We will be located indoors, near the Library Café, if it is raining next Wednesday. We hope to see you there!

For more information about this event or the Michigan Tech Archives in general, please call (906) 487-2505 or e-mail copper@mtu.edu. You can find us on Twitter: @mtuarchives.