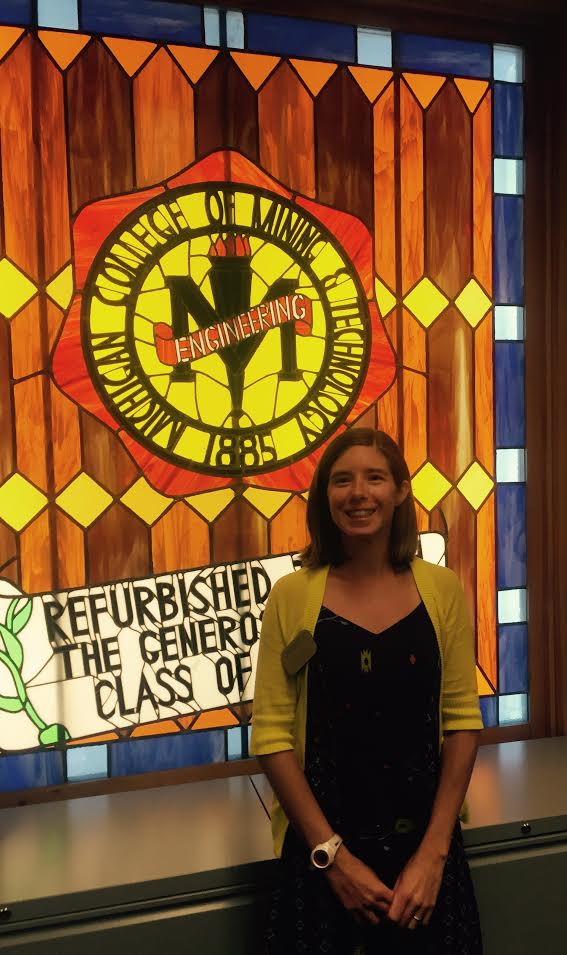 On behalf of the Michigan Technological University Archives and Copper Country Historical Collections, a department of Michigan Tech's Van Pelt and Opie Library, we hope you will help us welcome the newest member of the team, Allison Neely. Allison is our newest archivist and she will be responsible for various public services and behind-the-scenes projects. She will be an important part of our research support services and reference team as well as share responsibilities for the arrangement and description of recent manuscript acquisitions. We are very excited to have Allison on board. Below, please take a moment to get to know Allison as she introduces herself in her own words.
---
Hello! My name is Allison Neely and it is my pleasure to be the new archivist at the Michigan Technological University Archives and Copper Country Historical Collections. Having grown up in Minnesota and living in the Midwest most of my life, I'm excited to learn more about the Copper Country and Keweenaw region of Upper Michigan, particularly the people, places and events that make this part of the world so unique.
I found my way into the library and archives field mostly by accident, though in retrospect it seems almost inevitable. As an undergraduate history and film studies student at the University of Minnesota-Twin Cities I worked in the main campus library as a library aide, fostering my love of learning. Following graduation I found myself taking a summer internship in the Steven Spielberg Film and Video Archive at the United States Holocaust Memorial Museum in Washington, D.C., a position that eventually rolled into a career-changing, year-long appointment. With the encouragement of USHMM staff I enrolled at the University of Wisconsin-Madison School of Library and Information Studies and received my MA with a specialization in archives and records management in 2008. I had the fortune of working for the next couple of years in some great archival institutions, including gigs at the Wisconsin Historical Society, the Wisconsin Center for Film and Theater Research, and the Minnesota Historical Society before making my way north to the Houghton/Hancock area.
I'm very excited to be making the Copper Country and Michigan Tech my home. When I'm not in the archive you might find me outside hiking, fishing and generally traversing the region with my husband; exploring the local food scene or trying a new recipe at home; or more than likely I'm in the gym catching a Zumba or yoga class. I hope you'll feel free to stop by the department at any time to say hi and perhaps pursue a research project of your own using our collections.
---
Welcome aboard Allison! We are so happy to have you join us at Michigan Tech!
For more information about the Michigan Tech Archives please call (906) 487-2505 or e-mail copper@mtu.edu. You can find us on Twitter: @mtuarchives