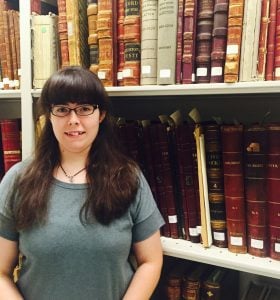 On behalf of the Michigan Technological University Archives and Copper Country Historical Collections, a department of Michigan Tech's Van Pelt and Opie Library, we hope you will help us welcome the newest member of the team, Emily Riippa. Emily is our newest assistant archivist which is a one year term position to help us with special projects and various public services and outreach initiatives. Below, please take a moment to get to know Emily as she introduces herself in her own words.
---
My name is Emily Riippa, and I'm delighted to join the staff of the Michigan Technological University Archives and Copper Country Historical Collections as Assistant Archivist for the next year. I am twice a graduate of the University of Michigan, earning degrees in history (bachelor's, 2014) and archives and records management (master's, 2016).
You've heard the term "dream job," and that's exactly what working at the Michigan Tech Archives is for me. While I was born and raised downstate in Grand Rapids, my family's roots in the area are very deep: my ancestors first arrived in the 1870s, and my parents grew up in Winona and Hancock. Little did they know what they had started when they brought me to visit the Keweenaw at three weeks old! I fell in love with the Copper Country and its remarkable history during annual childhood vacations, which prompted me to write my undergraduate honors thesis on women's experiences in the region between 1880 and 1930. Last summer, I was an archives technician intern at Keweenaw National Historical Park, which I enjoyed tremendously. I have also worked part-time at the Bentley Historical Library and the Ada Historical Society in the Lower Peninsula for the past several years, learning more about how to keep history alive through our documents and artifacts.
When I'm not at work, you'll find me engrossed in my own genealogical research, respectfully exploring local cemeteries and historic sites, enjoying a frigid swim in Lake Superior, biking around the Copper Country, or with my nose buried in a good book. I also intend to learn a little Finnish, a language of my heritage, while I'm here.
I'm thrilled to give back to this community I love in my new role and to experience my first Keweenaw winter. Please feel free to come by the archives and say hello. I hope you'll find what we have to offer as exciting as I do.
---
Welcome aboard Emily! We are so happy to have you join our team at Michigan Tech!
For more information about the Michigan Tech Archives please call (906) 487-2505 or e-mail copper@mtu.edu. You can find us on Twitter: @mtuarchives