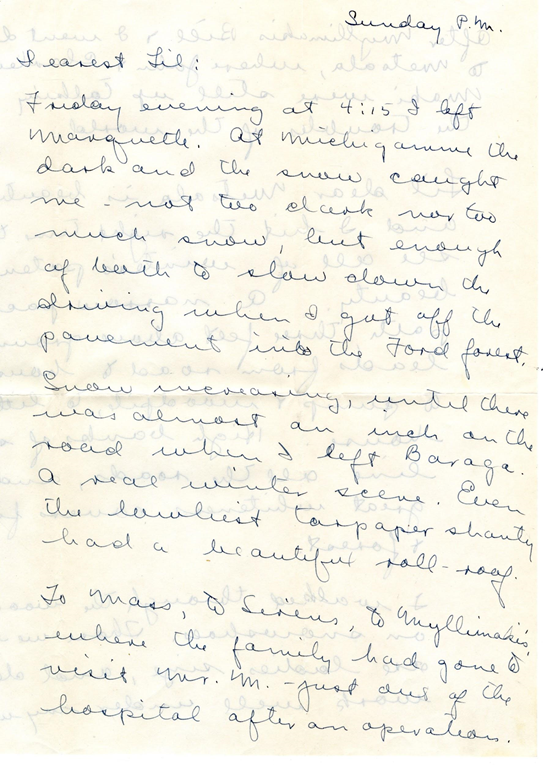 "Ten o'clock on Tuesday night, back in the Soo. And in case you can't imagine what I am wanting at this hour, it is the sight of a golden haired lady with an unfailing smile. Believe it or not–I do, I always have, and I always must–love you."  –December 30, 1941
Thomas Rowe Ford and Lily Orvokki Siren probably met in Ann Arbor, Michigan, where she was working as a registered nurse at the University of Michigan Hospital and he was studying for his bachelor's degree in education. Lily was the daughter of Finnish immigrants who had settled near Mass City; "Tom" was born in Illinois. Lily found herself besotted with the tall and serious man in his mid-twenties. Tom considered Lily the sweetest and most remarkable woman he had ever met. The two married in Ann Arbor on October 6, 1934.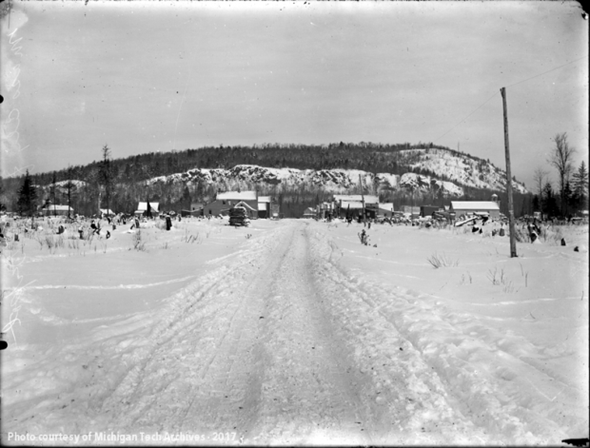 For several years, the newlyweds resided together in Ann Arbor. Lily's nursing career thrived. Although Tom earned a master's degree in 1935, the Great Depression stymied his attempts to succeed as a teacher and writer. In late 1940 or early 1941, Tom took a job with Michigan's State Tax Commission and was assigned to the Upper Peninsula; Lily remained at work in Ann Arbor through the following summer. The two kept in contact by writing each other nearly daily.
"I stayed awake until four o'clock this morning, thinking and worrying about your pleurisy and your cough. Do you know what I thought about most? It was about a room at 204 Forest, with a magic door without a lock, which by tacit house-consent shut the place into a firm retreat." –February 20, 1942
The letters the couple exchanged during their time apart are the heart of MS-427, Thomas R. and Lily S. Ford Correspondence. Some handwritten on hotel stationery, others typed on State Tax Commission letterhead, Tom's letters–the bulk of the collection–document the difficulties created by their separation, their ongoing struggles to have a child, their desire to relocate to a wooded retreat, dubbed Metsala, near Mass City. Through the obstacles, however, endured Tom and Lily's deep love and respect for each other, which played out intensely and sometimes teasingly in their correspondence.
World War II tested the Fords further. In June 1943, the United States Army discovered a need for Tom; his service, which included fighting in Germany, concluded in October 1945. Any letters he and Lily–who returned to the University of Michigan to further her knowledge of public health in 1944–exchanged during this war have not come down to us.
"One thing about the time in Ann Arbor I shall always I appreciate. It may not have given us–or me–very much of a push toward fame, but whatever else it did or didn't do, it kept me within five minutes walk of the dearest lady in the world. And I made that walk several hundred times, always with the deepest satisfaction any man can know–the satisfaction of going home to the one he loves." –March 12, 1941
After demobilization, Tom and Lily Ford found the world suddenly full of possibility. Tom received a job offer from what would become Michigan State University and joined its faculty as a teacher of English. He also became deeply involved in improving the curricula of junior colleges, particularly what is now Gogebic Community College. Lily took a position as a public health nurse in Lansing that found her offering educational lectures to fellow professionals.
On May 22, 1953, Lily stood at the front of a room in Grand Rapids, preparing to deliver just such a lecture to a gathering of doctors and nurses. Suddenly, she collapsed. While those present hurried to her aid and rushed her to the nearest hospital, it was too late. Lily Siren Ford was forty-five years old.
"There have been no perfect days without you, and the end of every day is dull and savourless. I love you, dear lady. I need you." –February 6, 1942
Eventually, Tom Ford remarried. His new wife was Mabel Cosby, a teacher and native of Kentucky. Tom's last years, however, were consumed by poor health, which forced him to leave his long-sought teaching position in Lansing. Illness eventually claimed his life on October 15, 1961. He, like Lily, was cremated and buried in Ontonagon County. But both Fords–and their hopes, sorrows, and dreams–remain forever alive in their letters, freely open for research at the Michigan Tech Archives.
"And always–whatever–my dear, you will be respected, and loved, and–my God–wanted." –June 12, 1941
By Emily Riippa, Assistant Archivist