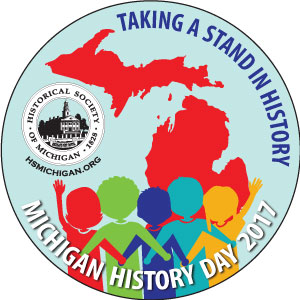 The Michigan Technological University Department of Social Sciences and the Michigan Technological University Archives and Copper Country Historical Collections are pleased to announce that the Michigan History Day district 1 competition will be held at the Memorial Union Building at Michigan Tech, Saturday, March 4, 2017 from 9:30 a.m. to 12 p.m.
Several secondary schools from MI-District 1 (the 6 western counties of the UP) will be sending over 40 students for the competition. Top entries in each category — exhibits, documentaries, websites, papers, and performances — will be eligible to go to state competition in the spring. Winning entries will also be on display in May at the Carnegie Museum in Houghton.
History Day is a competition for middle and high school students who develop historical research projects based on an annual theme that highlight people, events and ideas in history.  This year's national theme is "Taking a Stand in History" and projects are on local, state, national and even world history. Michigan History Day is sponsored and coordinated by the Historical Society of Michigan, which coordinates 13 districts statewide.  Each school in the district has initial competitions and sends up to three entries (individual or group) in each category to the district competition, which then sends on top projects in each category to state finals. History day is open to the public and all are welcome to attend.
ABOUT MHD-district 1: Associate Professor Steven Walton and Assistant Professor Jonathan Robins, both historians in the Dept. of Social Sciences, and University Archivist Lindsay Hiltunen of the Michigan Tech Archives are the coordinators for Michigan District 1, which includes Houghton, Keweenaw, Baraga, Ontonagon, Iron and Gogebic counties.
The Department of Social Sciences offers a B.A. degree in history with particular strength in industrial and environmental history and archaeology.  The Michigan Tech Archives holds unparalleled historical resources on the Copper Country and its mining history. Michigan Tech has been hosting the district contest each February or early March for nearly a decade.
For more information, contact: Steven Walton, 906-487-3272 (office) or sawalton@mtu.edu, or visit the District 1 Michigan History Day website.