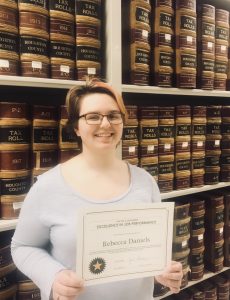 During the month of March, the Van Pelt and Opie Library hosts the annual Student Awards for all the student assistants in the library. This year's event took place on Wednesday, March 21 and it included delicious food and a festive awards ceremony, which offered awards in eight categories. We are pleased to announce that both of our student assistants won awards!
To thank our students for their hard work and to further congratulate them on their award-winning work, we are featuring our students on social media to showcase all their efforts. Becky, our veteran student assistant, won the Excellence in Job Performance Award which goes to show that she is always on top of the many projects she works on over each semester. Our nomination for Becky is included below:
This student continues to excel and embody all the characteristics of an exceptional worker. This student consistently receives rave reviews from colleagues in the department and continues to positively impact our customer service in the department. This student turns in nearly all projects ahead of schedule and provides work that transcends that quality of normal student work. For instance, I asked for some assistance on some research and the student was able to finish several complex research tasks in a 2-hour shift, work that would normally take another student assistant at least 3 hours. In addition, this student takes initiative on research projects by anticipating patron needs and working with the supervisor to make sure no stone is left unturned. This student's writing skills are equal to their research skills and I cannot imagine our department without this student! The quality and excellence of work projects, the care and attention to detail, and the constant cheerful demeanor set this student a cut above the rest!