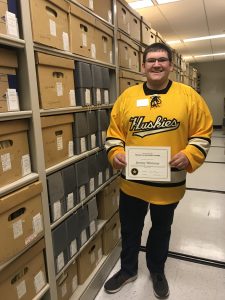 During the month of March, the Van Pelt and Opie Library hosts the annual Student Awards for all the student assistants in the library. This year's event took place on Wednesday, March 21 and it included delicious food and a festive awards ceremony, which offered awards in eight categories. We are pleased to announce that both of our student assistants won awards!
To thank our students for their hard work and to further congratulate them on their award-winning work, we are featuring our students on social media to showcase all their efforts. Our first student award winner is Jeremy, our Copper Range Railroad exhibit research assistant. Jeremy won the Project Achievement Award. Our nomination for Jeremy is included below:
This student has gone above and beyond on a complex research project related to a grant-funded exhibit. This student provided accurate and timely research on a lesser known but historically important part of our local heritage. This student's research findings are being applied to an exhibit project which will not only be on display in the Library, but will eventually travel off-site to other institutions. The student for this project maintained clear and consistent communication with the project team leader and was also able to earn the praise of project consultants and stakeholders interested in the project outcomes. In addition to achieving great research outcomes on this difficult and time-consuming project, the student was in a class of his own when it comes to positive attitude and enthusiasm. Not a day would go by without this student bringing joy and verve to research along with specific subject knowledge expertise which was directly beneficial to the project. This student has made this difficult project fun and informative. I always look forward to this student being in the department!
---
Thank you Jeremy for all of your efforts! You are a wonderful part of the archives team!