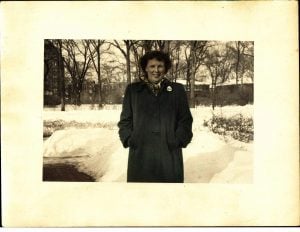 For many women, the early 20th century ushered in a new period of possibilities for life and work outside the home and changes to the traditional roles of wife and mother. While employment opportunities were still limited to a few fields such as school teacher, secretary, and nurse, many women fought to make their lives outside domestic life rich and fulfilling. Archival collections are full of stories of such women and the Copper Country is no different. To honor the many unique and fascinating women of the Copper Country during Women's History Month, our blog post today highlights one amazing woman from Rockland, Michigan: Ellen Carlson.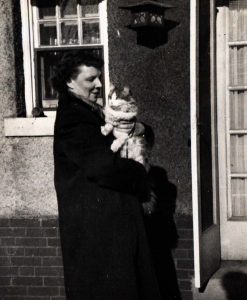 Ellen Carlson was born in Rockland, Michigan around 1901 to Swedish parents, Gustave and Anna, who immigrated to the Upper Peninsula in 1899. Her father worked for the copper mine in Rockland until his death in 1915 following a mining accident. Ellen's mother, Anna, was left to raise her daughter and son, Hugo, by herself. She ensured that her children received a good education and the children attended school in Rockland, with Ellen graduating in 1918. However, Ellen's early aspirations for higher learning at the Marquette Normal School were cut short due to the outbreak of the Spanish Influenza. Though she never received a formal degree, Carlson attended classes at Wayne State, University of Michigan's Rackham School, and the Milwaukee State Teachers College and became a school teacher, initially teaching in a four-room school in Victoria. She moved back to Rockland for a period of time before moving to Marquette in 1922 to finish her teaching studies, but continued to move back and forth between the U.P. and downstate, teaching again in Rockland, Montrose, Flint, Ferndale and Taylor. In 1965, after 46 years of teaching, Carlson retired and returned to her family's home in Rockland where she lived until her passing in 1988.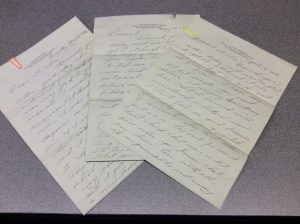 For many, there is a certain stereotype associated with the concept of an unmarried, rural school teacher in the early 20th century. However, a glimpse into the the personal correspondence of a woman like Ellen reveals a vibrant personal and social life, as well as a woman who was undeterred in her quest in fulfilling her lifelong aspirations. The Ellen Carlson Correspondence (MS-416) collection held at the Michigan Tech Archives is a rich resource for anyone interested in the personal lives of women in the Copper Country. The collection primarily contains correspondence Carlson kept with friends, students, and family members throughout her life and provides a unique perspective on the life of women in the Copper Country.
Some of the earliest correspondence in the collection dates from around 1918 when Ellen was just a young woman starting her teaching education. Nearly a decade worth of letters from a likely high school beau then living in Chicago shows a young woman in love, but one torn between that love and a dedication to her studies. Sadly, the romance fizzled out during May and June of 1926 based on the letters from Chicago. We can only speculate that the relationship had a deep impact on her as she never did marry.
From the correspondence you get a sense of the importance family and social ties had to Ellen. She maintained lengthy correspondence with close friends throughout her life, in some cases receiving multiple letters per week, which implies the amount of outgoing correspondence and connections she must have maintained were extensive. Though the collection only contains correspondence she received, a researcher gets an impression of the topics that were important to women during this time period, notably between women as she maintained correspondence with several other women from her Rockland community and elsewhere throughout her life. It's also clear that Ellen maintained a strong relationship with her mother, Anna, particularly during the latter half of her mother's life up until her unexpected death in 1954. This section of correspondence is a fascinating view of mother-daughter relationships and a treasure trove waiting to be discovered.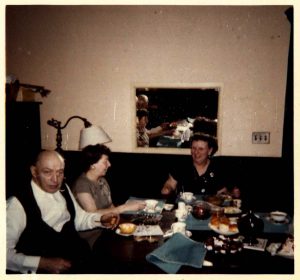 Ellen clearly maintained a wide social circle of friends, especially with those within the Rockland area. An article printed in the local paper sometime between 1976 and her passing in Rockland in 1988 attests to her vibrant social life and the importance that women played within the community. Noted within the article, fellow community members described her as having "a host of friends, young and old" and that she was "very sociable — has a houseful of company all summer long." One comment from a friend regarding the amount of birthday cards she routinely received is apparent in her correspondence collection. Among the regular correspondence and photographs, Ellen maintained several scrapbooks worth of birthday and holiday cards that she received or collected overtime, presenting a very interesting and delightful resource for people interested in period greeting cards.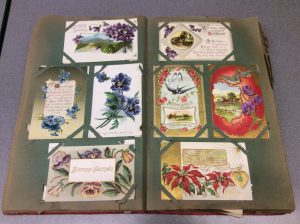 According to the article, Ellen was a lifelong and active member of the Methodist church and an accomplished pianist, serving as the district organist for the Order of the Eastern Star since 1920, which is evident from the correspondence and ephemera tucked into her collection.  Among her other passions was regional history. She and fellow local, Mary Jeffs Regan, co-founded the Rockland Museum and donated material to the collection over the years. Ellen, according to the article printed later in her life, was also a reader, crossword puzzle enthusiast, and enjoyed playing cards.
While the collection is primarily composed of correspondence, Ellen maintained journals, especially later in life, which can be found in the collection. Also included are scrapbooks, postcard albums, and photographs, many of them documenting the lives of her friends and family members that were dear to her.
The Ellen Carlson Correspondence collection reveals a woman many can relate to; one driven to follow their passions and affinity for one's roots. It provides a glimpse into the impact a singular person can have within a community and a rich resource for those looking into the lives of everyday women in the Copper Country. This extensive collection is just waiting for further exploration and insight from researchers. If you are interested in viewing this collection, visit the Michigan Tech Archives! The department is open for regular research hours, 10 a.m. to 5 p.m., Monday-Friday, no appointment necessary. You may also contact us directly at (906) 487-2505 or by email at copper@mtu.edu.