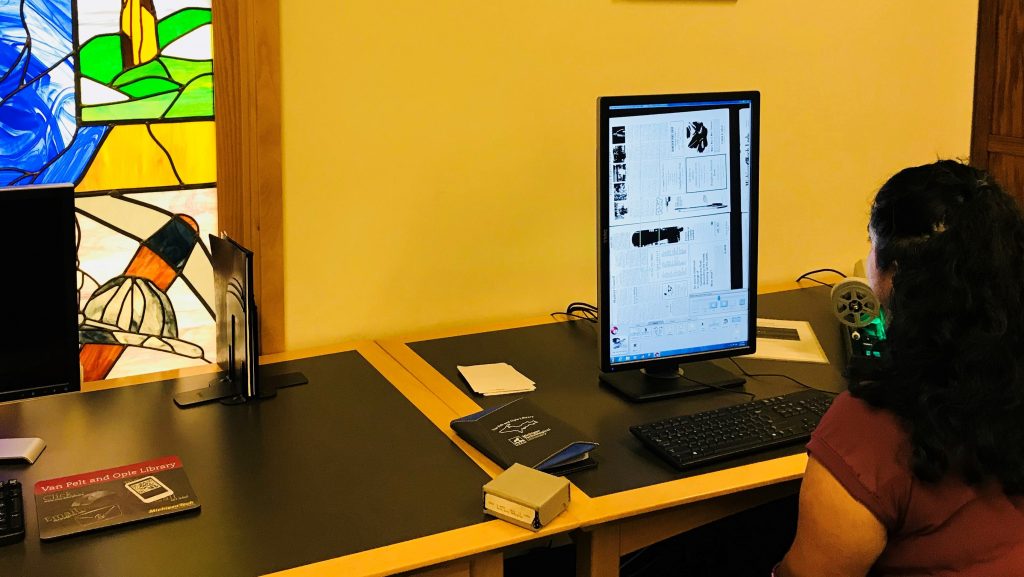 Summer is breezing by and our intern has been busy keeping things running smoothly in the archives. Read on for an update in Angie's words!
---
Hello again!
I'm back with a quick update on my first few weeks as an intern for the Michigan Tech Archives. I have been busy learning all about the department and different aspects of the profession. I have been able to explore the collections including the employment cards for the Calumet and Hecla Mining Company, naturalization records and court case records. I also had the opportunity to use microfilm to scan through our newspaper collections for articles, birth announcements and obituaries. It is fascinating to learn about the local history through these archival materials.
Additionally, I am shadowing the awesome archivists here while they work the reference desk. This allows me to learn how they work with researchers that visit the archives and sometimes I am able to assist pulling collections for the patrons or help them with the microfilm materials. I look forward to taking the lead at the reference desk soon.
The most challenging aspect of the internship is discovering the difficulties of genealogical research. Tracking down the right birth and death dates or researching various spellings of last names can seem never-ending, but it is worth it in the end. Providing patrons with their family member's employment card or naturalization record is always exciting and fulfilling. In the upcoming weeks, I am really excited to start processing archival collections, assisting more patrons with their research requests and gaining more archival skills.
Outside of the archives, I am having a great time exploring downtown Houghton, walking along the Waterfront Trail, watching the sunset over Lake Superior and attempting to survive the humidity. I'm hoping to go on a mine tour and continue exploring the Copper Country before my time here is up. As always, don't hesitate to come in and visit! We are here to help with any research and historical questions.