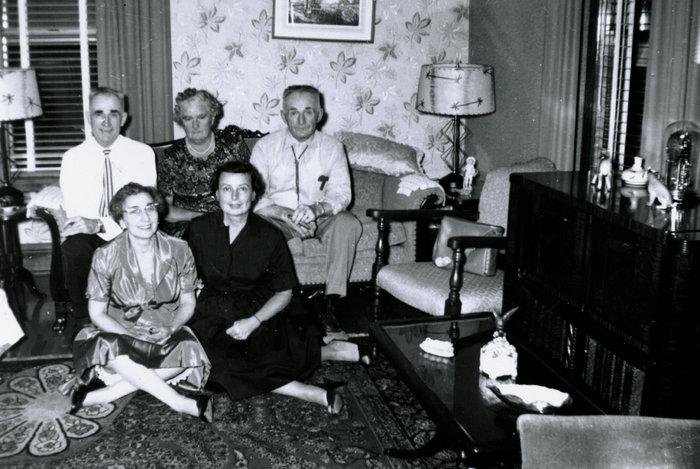 Genealogy brings the family together.
The arrival of summer in the Copper Country brings with it many travelers who come to the Michigan Technological University Archives and Copper Country Historical Collections in search of their ancestors. Although we serve all kinds of patrons year-round, our staff affectionately dub the summer "genealogy season" in light of how many family historians arrive between Memorial Day and Labor Day. With that in mind, it seems that the summer is an ideal time for our blog to highlight some of the genealogy resources that the Michigan Tech Archives can offer and recommend a few online tools that have proven particularly useful to our staff.
Picture me, resident genealogist, rubbing my hands together in delighted anticipation.
With that, let's begin our exploration.
Michigan Tech Archives
We're fortunate at the Michigan Tech Archives to have a substantial number of collections of use to genealogists. In addition to a few resources that address the history of a particular family–such as MS-916: Baril Family Genealogy or MS-506: Bartle Family Genealogy Research–the holdings include several key collections with broad appeal.
If your ancestor(s) worked for Calumet & Hecla (C&H) or Quincy mining companies, you will find the information available in those companies' employment records immensely valuable. Although the collections do not include every worker, their coverage is remarkable: in the case of C&H, employment cards number well over 50,000. Injury reports and employment cards from Quincy total some 20,000 records. The cards are full of gems, and researchers will find them immensely valuable to "mine" for such details as places of birth, physical descriptions, addresses, occupations, and names of family members. While some inaccuracies can appear in such records, they are often a tremendous starting point for further research and a wonderful snapshot of an individual's working life. For more information about how to interpret a Calumet & Hecla employment card once you've found one, you may wish to read part 1 and part 2 of our posts on that topic from last year.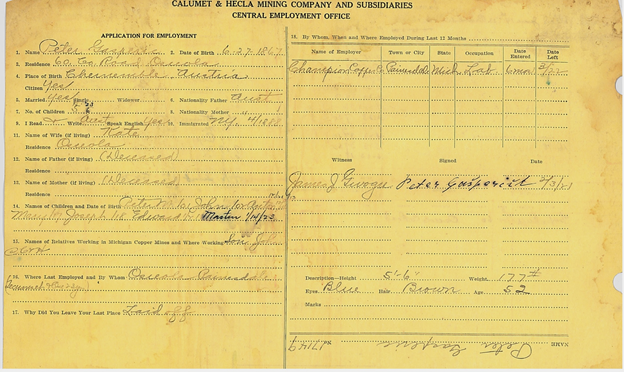 Sample Calumet & Hecla employment card for a Slovenian miner, Peter Gasperic.
Should you be searching for an ancestor who didn't work in the mines, or if you want to go beyond what the employment card offers, you'll find numerous opportunities to do so at the Michigan Tech Archives. City directories published by the R.L. Polk Company–colloquially called "Polks" by our staff–offer information about individuals' residences and occupations, mining and otherwise. The collection of Polks at Michigan Tech begins in 1895 and is generally complete through 1917. From there, the materials skip thirteen years to 1930 and then another nine years to 1939 before making one final leap to the 1970s. Each major town in the Copper Country (including Calumet, Houghton, Hancock, and Laurium) is included in the Polks; coverage of other areas, such as Lake Linden, Chassell, or South Range, can be more sporadic. Nevertheless, the Polks are a wonderful way to follow a family between census years, especially given the tragic loss of the 1890 federal census.
Once you've sketched in the basic outline of your family, you may wish to add some color and humanity to it. Perhaps you want to know a little more about your great-grandparents' wedding, or you suspect that a great-uncle may have had an encounter with the law. For the former question, consider perusing our extensive collection of newspapers on microfilm. Michigan Tech holds titles from virtually every county in the Upper Peninsula, with a special focus on newspapers published in the Copper Country. This includes the Daily Mining Gazette and its predecessors, back to 1862, as well as several major titles that have since gone out of business: the Calumet News, the Copper Country Evening News, and the Evening Copper Journal, to name a few. Thanks to the hard work of volunteers from the Houghton-Keweenaw County Genealogical Society, staff at the Michigan Tech Archives can search for names in indices of several area newspapers through 1914 and provide the exact date and page on which an article about each person was published.
While most articles that appeared about individuals, aside from those especially prominent in the community, focused on major life events like marriage or death, at times your exploration of the newspapers may lead you to something more scandalous. For the details of criminal conduct or the dirty laundry surrounding a messy divorce, turn to the files of the Houghton County Circuit Court. A prior piece on this blog sheds greater light on that collection.
Online Sources
What if you're not able to come to visit us here at Michigan Tech? You still have plenty of options for conducting your genealogical research! Our staff are always happy to assist with remote reference requests, such as copying obituaries, employment cards, or pages from Polks. Please feel free to contact us at copper@mtu.edu or (906) 487-2505 if you would like to put in a remote request.
Other resources can also help you to go further in your research. As a genealogist with deep roots in the Copper Country, I've found that several key websites have been crucial in helping me to dig into my family background, both here and abroad. All of these sites are free for basic use, though registration for no cost may be required to view some materials.
FamilySearch (www.familysearch.org/search): FamilySearch is a product of the Church of Jesus Christ of Latter-Day Saints, a group known for dedication to genealogy. Along with innumerable other collections, it includes an index of Michigan deaths from 1867 to 1897, marriage records to 1925, and birth records to 1902. FamilySearch does require users to sign up for a free account before they can view search results in detail.
For British research, Cornwall OPC Database (www.cornwall-opc-database.org): Cornwall Online Parish Clerks (OPC) Database transcribes parish records of key events–like baptisms, marriages, and burials–from the various Church of England parishes and non-conformist groups in Cornwall. The collections are extensive, continually growing, and all available for free access. In addition to these vital records, Cornwall OPC Database includes some bonus materials, such as select lists of institution inmates and prisoners. Now I know that one of my ancestors, sentenced in 1822 for having two children out of wedlock, was a little over five feet tall with "grey eyes, full face, pale [complexion], [and] dark hair." She behaved "very well."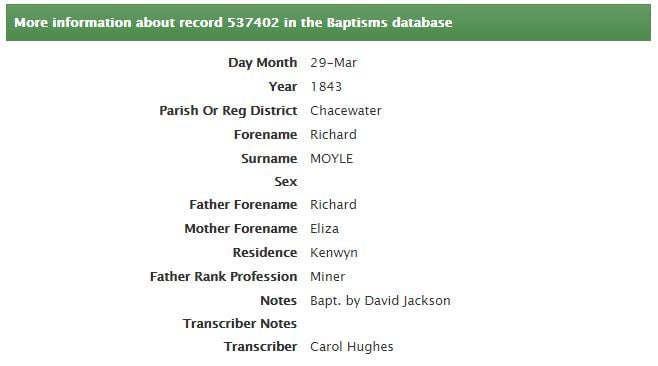 Sample baptism record from Chacewater parish on Cornwall OPC Database.
For Finnish research, HisKi (hiski.genealogia.fi/hiski): HisKi is something like the Finnish version of Cornwall OPC Database. Almost all historic Finnish parishes are represented, to some degree or another, in various types of events: christenings, marriages, burials, and migrations. Some parishes on HisKi include records as recent as the early 1900s, while others begin as early as 1700 and continue through 1850. The search is extremely flexible, checking for variations on names (remember that Finland recorded all such records in Swedish through the late 1800s) and allowing for wide ranges of years to be perused. HisKi was the difference between my knowing virtually nothing about my Finnish ancestors and being able to add hundreds to my tree.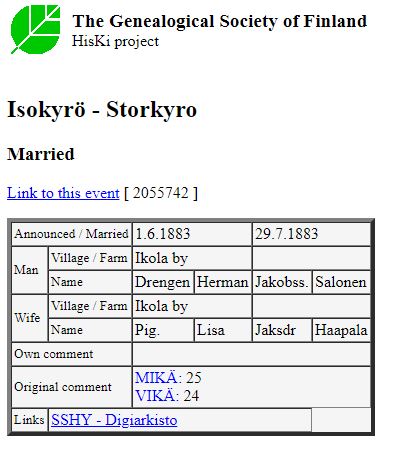 Sample HisKi marriage record for Herman Salonen and Lisa Haapala.
For Michigan research, Seeking Michigan (www.seekingmichigan.org): We have the fine folks at the Archives of Michigan to thank for Seeking Michigan. While it features a wide range of materials related to Michigan's history, genealogists will probably find its collections of death certificates and state censuses to be most useful. Images of the certificates are available from 1897 (the year that Michigan implemented these documents) through the early 1940s, and more join the site as certificates enter the public record under state law. Additionally, Michigan conducted state censuses in the 19th century, generally in years ending in 4. Sadly, for reasons about which archivists can only speculate, most state census records have since been destroyed. Records from Houghton County in 1864 and 1874 and Keweenaw County in 1884 and 1894 survive and can be searched on Seeking Michigan.
And there you have it–a little advice for genealogy season, courtesy of the Michigan Tech Archives. Hopefully, these resources and tips will be useful to you in moving your research forward. If there is ever any way in which our staff may be of assistance, or if you have further questions about family history research, please do not hesitate to contact us. Once again, our e-mail address is copper@mtu.edu, and our phone number is (906) 487-2505.
Happy sleuthing!