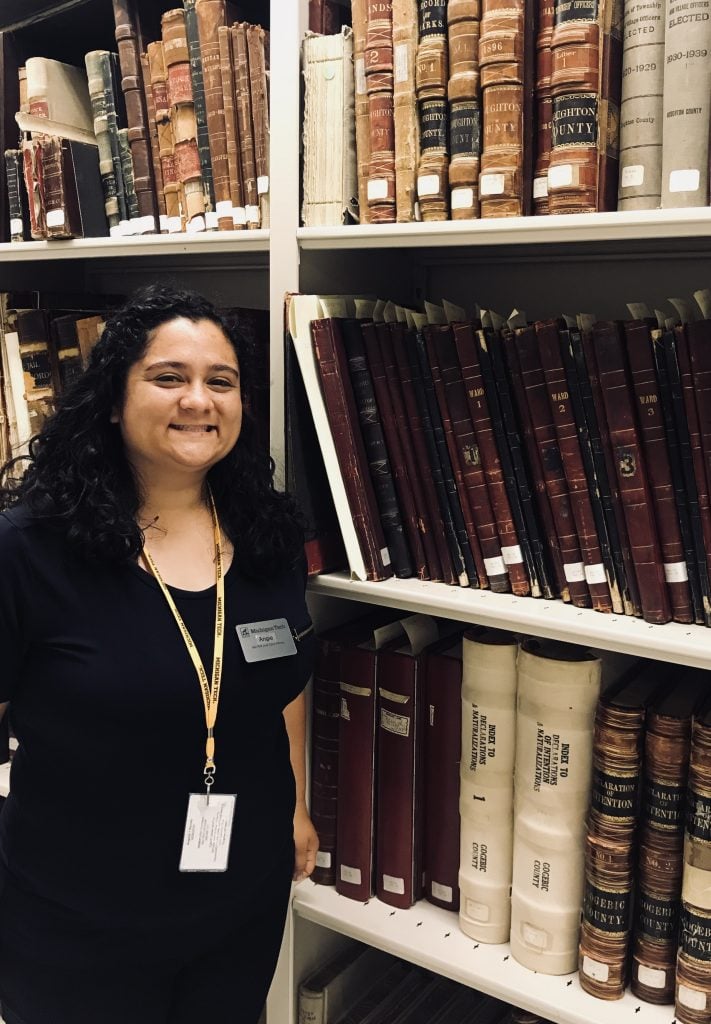 On behalf of the Michigan Technological University Archives and Copper Country Historical Collections, in partnership with the Friends of the Michigan Tech Library, we hope you will help us welcome our new Archives Intern for summer 2018. Angie Piccolo was selected as the Friends of the Michigan Tech Library Archives Intern after a competitive national call for applicants. While in Houghton, Angie will be assisting with research support services and collections processing in the Michigan Tech Archives. She will also be responsible for helping us research a forthcoming exhibit related to World War I. We are very excited to have her on board! Below, please take a moment to get to know Angie as she introduces herself in her own words.
——————————————————————————————————————————–
Hello!
My name is Angie Piccolo and I am honored to be spending the summer in Houghton as the Friends of the Michigan Tech Library 2018 Intern. Born and raised in Spokane, Washington, I am brand new to the Midwest and the Upper Peninsula, but I am excited to learn more about the history of this region and explore the beautiful natural environment that Michigan has to offer. I graduated from Gonzaga University in 2015 with a BA in History and I just recently graduated from Western Washington University with a MA in History, focusing on Archives and Records Management. My goal is to one day work for an institution, like Michigan Tech, that strives to provide patrons with the best access to historical materials. As the archives intern, I am ecstatic to continue pursuing my passion of history and I look forward to developing new archival skills, gaining knowledge about the local history, and helping researchers and community members find the historical materials they need.
Some fun facts about me: I had the opportunity to intern at Yellowstone National Park's archives last summer where I not only learned about the history of the Park, but I also had the chance to visit Old Faithful and the Grand Canyon of Yellowstone, as well as take pictures of black bears and bison (from a safe distance of course.) When I am not in the archives, I love to explore antique shops, go on nature walks and spend time with friends and family. I also love watching period dramas, such as Downton Abbey and Call the Midwife, but my guilty pleasure is reality TV (anything Real Housewives.)
I will be here until mid-August so make sure to stop by with any history and archive questions or recommendations for the best pasty bakeries around town.
———————————————————————————————————————————
For more information on the Friends of the Michigan Tech Library Internship Program or to set up a time to say hello to our new intern, please call our University Archivist, Lindsay Hiltunen at (906) 487-2505 or e-mail us at copper@mtu.edu. The Michigan Tech Archives can also be found on Twitter: @mtuarchives, Instagram: michigantecharchives, and Facebook.