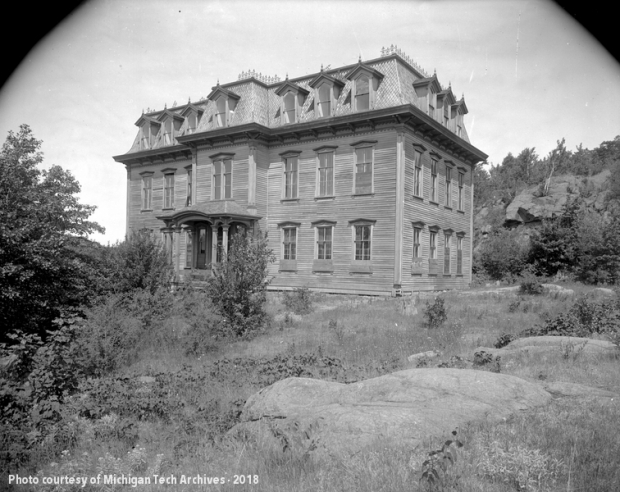 The second school built at Central Mine. Photograph taken by J.T. Reeder in July 1921, after the school building had ceased to serve students.
I'll admit that I have a soft spot for Central Mine, the kind of soft spot that leads a person to wander the ghost town's hillside on weekends and affix an "I <3 Central" decal to a car. It was that affection and the ongoing pursuit of my family history that led me to investigate a thin folder at the Michigan Technological University Archives and Copper Country Historical Collections: MS-787, Central School Records.
The title of the collection is, perhaps, slightly misleading. This worn, weathered volume does not contain attendance statistics, names of teachers, or exam grades. Rather, it consists wholly of annual censuses taken, presumably, by the township school board of school-age children in the Central Mine settlement between 1877 and 1890. By this first year, students had already been attending classes in Central for two decades. What, one might wonder, was the sudden urgency in enumerating all of the children in the village? The timing suggests a certain conclusion. Simply put, Central Mine was successful–too successful. The population of the town soared in response, and the small schoolhouse on the edge of the settlement had been overwhelmed. By 1877, both it and the overflow classrooms in the Central Mine Methodist Episcopal Church were strained to their limits. The townspeople realized their obvious need for a new school, and knowing how many students it must serve was a critical part of construction. The expanded building, shown at the head of this blog post, opened for classes in 1878.
How can a survey conducted to gauge the student population at Central assist you in your research? Genealogists may consider it especially valuable. Consider that, while many mining families put down deep roots, others migrated from place to place within the Copper Country, following the fortunes of the mines from Clifton to Central to Calumet. You may find that your relatives drifted to Central for a year or two before moving on to a different location, where they were recorded in federal censuses. The school census particularly proves its worth in those years between 1880 and 1890. As any genealogist quickly learns, the 1890 federal census is essentially lost, forcing researchers to compensate with other records. Along with Michigan state census forms for Keweenaw County completed in 1884 and 1894, this Central Mine collection can help to bridge the gap.
In my case, I'll always be grateful to this collection for giving me a few insights into my family tree that I never anticipated. I had two ancestors–a mother and a daughter–whom I believed to have arrived from England in about 1887, since the mother was married that year to a man with deep roots at Central Mine. I expected to find the daughter residing with her mother and new stepfamily in the 1887 school census, but she wasn't included in their household listing. Had she stayed in England while her mother went on ahead? That would change my research in some interesting ways. I browsed through the other pages and finally found her with a family whose name I didn't recognize. Further investigation showed that the mother of the family was the last elusive sibling in the mother's extended clan, a woman who had seemingly dropped off the face of the earth. It turned out that she had merely moved to the ends of it instead, settling in Central with her husband and children. This was the one and only year that my ancestor lived with this long-lost aunt, who soon left Michigan, and I never would have made the connection between the two of them without the school census. This is just one of several instances where the Central Mine school census made the critical difference in my genealogical research, and it may do the same for you.
Want to check out MS-787: Central School Records for yourself and see what insights it can offer? We at the Michigan Tech Archives would be happy to help you. Please feel free to stop by during our open hours (Monday-Friday, 10am-5pm), to e-mail us at copper@mtu.edu, or to call us at (906) 487-2505.