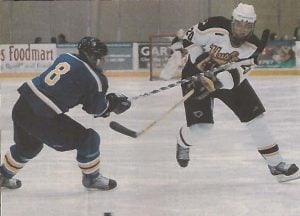 John Scott (Huskies #20) in action on the ice, 2004
At 7:37 tonight, the puck will drop in the opening game of the 2018-2019 season for the Michigan Tech Hockey Huskies. A team of veterans–fresh off the second consecutive WCHA Men's championship–and eager freshmen will take the ice in brilliant Tech black, gold, and white, hoping to defend their title for yet another year.
Many famous figures in the world of hockey have worn the Michigan Tech jersey over the years. Tony Esposito, now part of the Hockey Hall of Fame, played goalie at Tech and helped to propel the team to an NCAA Championship in 1965. Mel Person, one-time Huskies head coach and now leader of the University of Michigan men's hockey program, suited up as a forward between 1977 and 1981. Randy McKay, an alumnus later who later served as an assistant coach at Tech, put his name on the Stanley Cup twice as a part of the New Jersey Devils.
Lately, however, conversation about well-known Hockey Huskies has centered around a name that has surprised many outside Michigan Tech circles. John Scott, who started at Tech in 2002 and received his mechanical engineering degree in 2010, rose to a new degree of national prominence in January 2016 through the most remarkable NHL All-Star Game in recent memory. As a professional hockey player, Scott had gained a reputation as an enforcer, a player who was unafraid to deliver hits, start fights to motivate his team, physically punish opponents who endangered a victory, or protect star players from enforcers on the other team. Forwards participating in the All-Star exhibition match were expected to be drawn from the NHL's most remarkable players in terms of goal scoring and playmaking–traits for which Scott, with five NHL goals to his name, was not known. Taking advantage of the rule that allowed fans to vote for All-Star team members, viewers colluded to prank the NHL by casting votes en masse for Scott. Scott was initially reticent to the fan campaign but ultimately decided to take the place awarded him following a sudden trade, assignment to a minor league affiliate, and unwelcome remarks from an NHL official concerning the effects of playing in the game on Scott's children. Over the weekend of competition, Scott scored two goals and was honored as the event's Most Valuable Player.
Anyone who followed the NHL in 2015-2016 had to have heard the John Scott All-Star story, but few have taken a walk back through the Michigan Tech Archives to discover the John Scott Husky story. Scott's first year on the hockey team went without much reporting by either campus or community newspapers, thanks in part to a shoulder injury that sidelined him for several games. As the rookie became a veteran, however, his dedication to his teammates, his physical talent on the ice, and his cheeky quips off it garnered him press attention. Journalists took one awed look at the 6-foot-7 Canadian then playing defense and chose a slew of colorful adjectives to describe him. "Hulking" turned out to be their favorite.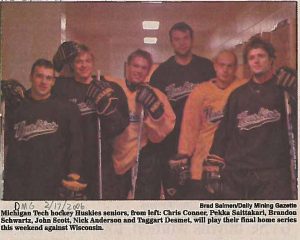 Scott proved a valuable addition to the Huskies blue line. By his own admission in his autobiography A Guy Like Me: Fighting to Make the Cut (co-written with Brian Cazeneuve), he joined a team that was struggling to put up wins, especially in the first two years. From day one, wrote a local reporter, Scott was a "tower of strength" on the team. In his absence following that freshman-year shoulder injury, "the Husky defense looked dazed and confused." In 2005, the Tech coach was quoted as saying that Scott was "our best penalty killer" and that his no-holds-barred playing took "a tremendous load off of the rest of the defensive core." Although "offense [was] not a big part of his game" and defense was his primary focus, when he scored, observers noted, "it counts." His first goal as a college player broke a tie against the talented University of Minnesota Golden Gophers. Other articles over the years recorded key moments when Scott knotted up a game with a "greasy goal" against a big rival or a highlight-reel wrist shot received from a teammate's no-look pass. As the end of his college career approached, it was clear that Scott's presence on the ice made a world of difference for his fellow Huskies.
And, yes, there were fights. The local papers loved it when John Scott dropped the gloves: it gave them a chance to trot out even more vivid descriptions than the adjectives they used for his height. After a game versus the University of Alaska Anchorage where Scott and Seawolves forward Justin Johnson took a few good shots at each other, one reporter boasted that Scott's "stomping" on Johnson made the UAA player realize that "he picked the wrong Husky to mess with." In the last few minutes of a 2004 match-up, University of North Dakota's Ryan Hale "made the mistake of challenging hulking MTU defenseman John Scott." With tangible satisfaction, the paper wrote that Hale "came away having landing [sic] maybe one punch and his face completely mauled by Scott." 
Appropriately enough, it was at another UND-MTU game in Scott's senior year that a lucky reporter captured this classic quip, the one that might have best summed up his reputation: "I wish there was fighting in this league. I'd love to go out there… and pound on 'em, but I can't do it."
John Scott, for your grit, your lip, and your heart, both on the ice and off–we're proud to claim you as a part of Husky history.