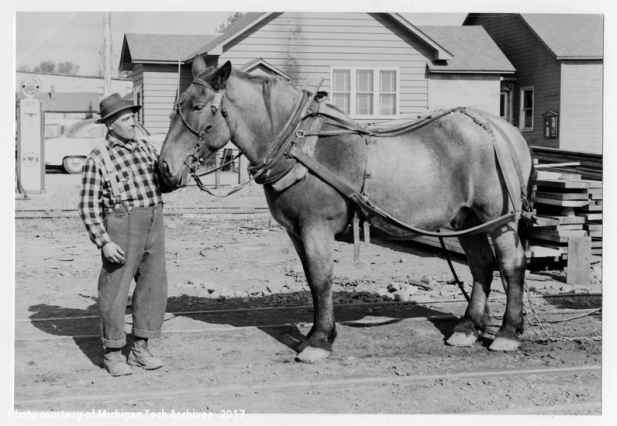 Today's Flashback Friday takes us to this week in 1953. A great still image of Ludger Belanger and his horse, Prince, pays tribute to the Upper Peninsula's rich logging tradition. Both Belanger and his horse Prince worked for the White River Lumber Company of Bergland, Michigan.
Bergland, an unincorporated community in Bergland Township, Ontonagon County, has a rich timber tradition that stretches back to the communities founding at the start of the twentieth century. The first settlement documented was established in 1900 following some seasonal timber cultivation in the late 1800s north of Lake Gogebic. Gunlek A. Bergland, who had been logging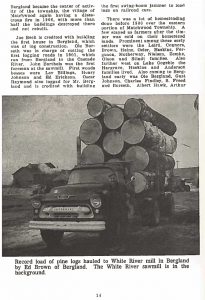 near Sidnaw, Michigan, purchased a large tract of timber land west of Lake Gogebic in 1900 and decided to move his operations to that area. The lake was a key asset in floating logs to the sawmill. The tract was rich with hardwood, hemlock, and some stands of pine. Although the heydey of pine logging from the 1880s and 1890s was over, hardwoods were coming into more general use and lumberman were quick to turn their attention to those types of forests.
The history of the town of Bergland is the history of the logging era after 1900. After G. A. Bergland made his first timber stand purchase, the hardwood and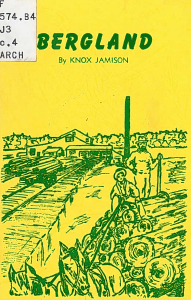 hemlock timbering activities just north of Lake Gogebic accelerated greatly. In 1903 he built a sawmill on Lake Gogebic, so logs no longer had to be shipped by rail to Sidnaw. After the sawmill, shingle and lathe mills were also constructed, with operations running day and night. In the early 1900s four lumber camps cropped up around the growing industry. Thanks to G. A. Bergland's industrious nature and his views on private ownership of businesses and homes, the town of Bergland turned into a bustling community of logging operations for many decades. A brief history of the community, including reference to mineral extraction and the timber industry is available in the Michigan Tech Archives.