Creating People's Park in May 1970. St. Albert the Great University Parish is visible in the background.
Saying that life as a young adult in the 1960s and 1970s was challenging would be putting it mildly. While growing into adulthood has always had its difficulties, these decades saw more than their share: political unrest, assassinations, and the death and destruction of the Vietnam War, to name a few. Student activism–protests, sit-ins, strikes–marked college campuses, most notably at places like the University of California, Berkeley, and Kent State University. Michigan Tech's name would rarely, if ever, come up in a conversation about famously political colleges, but students here were still engaged, involved, and prepared to speak up for their convictions. Frustration about the loss of life in Vietnam and in student protests on other campuses boiled over at Michigan Tech in the spring of 1970, leading to uncommon days in Houghton.
On the evening of May 6, the Michigan Technological University student council convened to discuss and adopt a special resolution. With the deaths and injuries of thirteen protesters at Kent State University two days earlier, as well as President Richard Nixon's announcement that the Vietnam War would expand to Cambodia, fresh on their minds, the council members voted 10-6 in favor of a four-day strike from classes. A Daily Mining Gazette article published the next morning quoted the resolution as born of "grief and sympathy for the tragic slayings at Kent State University" and setting "May 7, 8, 11, and 12 as a campus-wide boycott of classes in order to protest the National Guard action at that and other universities and the escalation of the war in Southeast Asia without Congressional consent." About 500 students in support of the resolution gathered at a rally the next morning, many bearing black mourning armbands and asking for campus flags to be set to half-staff for the duration of the boycott. Michigan Tech administrators agreed to lower the flags in tribute to the four killed at Kent State but felt that classes should be held as usual. Professors, while encouraging their pupils to come to class, nevertheless applauded their commitment to democratic, peaceful principles of protest and encouraged the students to write to their senators. Father William McGee, pastor of St. Albert the Great near campus, took it one step further by warning his young congregation to think carefully about whether to offer their scientific and engineering talents in support of a military-industrial complex.
Students take a break from working on People's Park to meet with President Ray Smith, left, and Vice President Ed Koepel in 1970.
To some students, the boycott and lowering of flags did not seem to be enough in the face of so much turmoil in the world. Those gestures, while poignant, would pass, and life would go back to what it was. Instead, they sought to cultivate a lasting good and to express their grief in a constructive fashion. Some traveled to Lansing to meet with Governor William G. Milliken and lobby him for change. Closer to home, part of this expression came in the form of People's Park, a concept previously proposed and promoted by Fr. McGee. Knowing the desires of students for a meaningful outlet and their concerns for the environment, the priest helped to organize an outdoor work bee on May 9 to clear a parcel of land near his parish in honor of the Kent State dead. By one estimate, over a thousand students participated that Saturday. A group of 300 ROTC cadets, Tech president Ray Smith, and other administrators joined them the following Tuesday. Their dedicated efforts even attracted the attention of Russell Hellman, the state representative for the 110th Michigan district, who read an article about the park's construction into the record of the State House of Representatives.
Although it had already been inaugurated by a candlelight procession and burning of protest memorabilia in the spring, on October 15, 1970, People's Park received an official dedication. A Daily Mining Gazette article at the time described the 1.3-acre park as featuring "a creek with bridge and reflecting pond, picnic tables, a stone walking path, large firepit, and plenty of free parking." Writing for the Michigan Tech Lode, one Husky said that "it is hoped that all those hundreds who labored to create the Park last spring as well as any Freshmen who share the outrage and anguish over what has and continues to happen in the South East Asian War will attend." Guests who gathered at People's Park that evening witnessed the unveiling of a permanent commemorative plaque by Fr. McGee and "folk style entertainments" at a "free outdoor coffee house."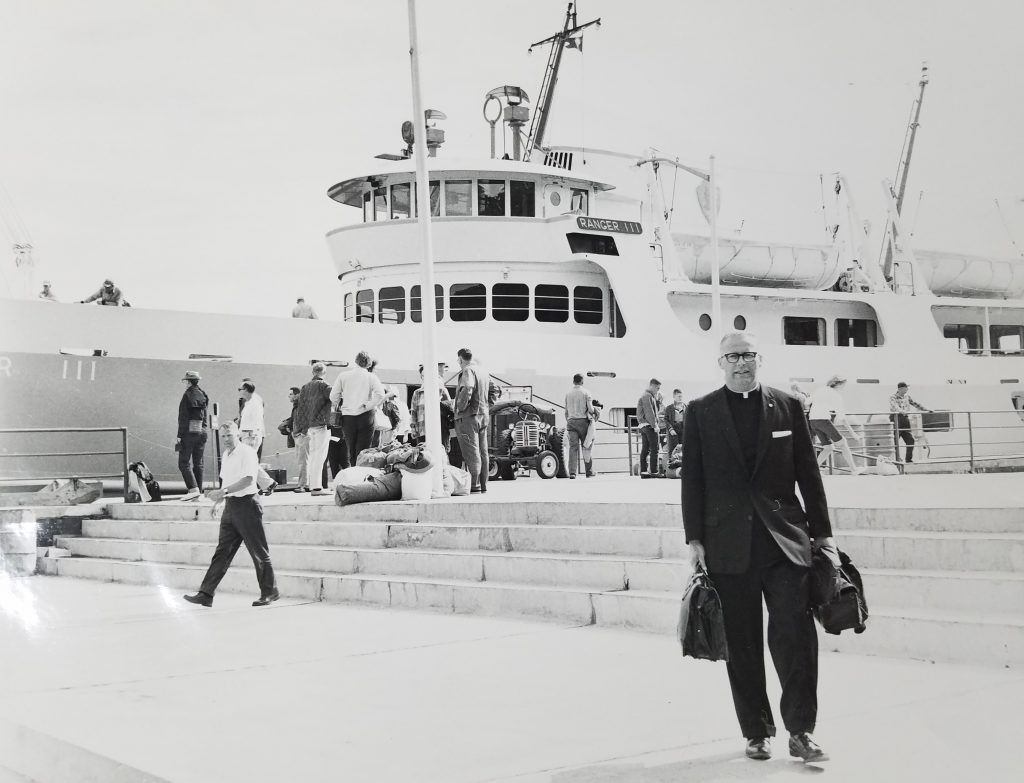 Fr. William McGee, a staunch advocate of People's Park, in front of the Ranger III. Photograph courtesy of St. Albert the Great University Parish and Fr. Ben Hasse.
These days, People's Park is no longer a gathering place for Tech students or the local community. By 1982, campus alternative paper The Student Ego noted that the park had fallen into noticeable disrepair. Industrial equipment hauled from a local copper mine as decoration had begun to decay. Fr. McGee, the champion of People's Park, had left Houghton years before and focused his attention elsewhere. In his absence and with little support from the student body–which drew the vocal ire of a 1970 boycott participant in the aforementioned Ego article–the protest memorial faded away, reclaimed by the elements. Later, to paraphase Joni Mitchell, they paved People's Park and put up a parking lot, which now serves students during the week and St. Albert the Great parishioners on weekends.