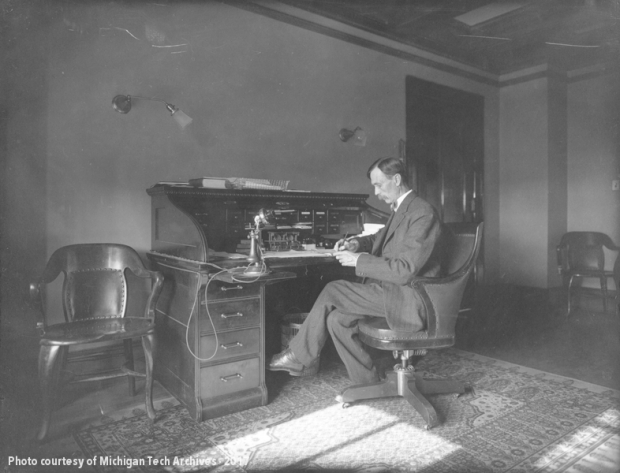 The Michigan Technological University Archives and Copper Country Historical Collections, a department within the J. Robert Van Pelt and John and Ruanne Opie Library, is currently accepting applications for its annual Travel Grant Program, which brings scholars and researchers to Michigan Technological University to work with the archives' collections. Financial support for the Travel Grant Program is provided by the Friends of the Michigan Tech Library, a support organization for the Van Pelt and Opie Library. Grants are awarded for up to $750 to defray the costs of travel to visit and conduct research in Houghton, Michigan. In addition, graduate students applying to the program may request up to an additional $200 to help defray any duplication costs incurred during a qualified research trip.
The Michigan Tech Archives houses a wide variety of historical print, graphic and manuscript resources related to the Copper Country and Michigan Technological University. Subject coverage is vast, some of which includes university and campus life, regional towns and cities, local industries and businesses, social organizations, events and personalities of the Copper Country and Michigan's Upper Peninsula. Primary topical research areas include the western Upper Peninsula, industrial history, particularly copper mining and its ancillary industries, social history, community development along the Keweenaw Peninsula, transportation and the environment. Finding aids for some of the collections can be found here: http://www.mtu.edu/library/archives/collections/.
To apply for funding through the Travel Grant Program please visit the program website: http://www.mtu.edu/library/archives/programs-and-services/travel-grants/
Applications are due on March 29, 2019. Award recipients will be notified by late April or early May. The successful candidate must complete their travel by December 6, 2019. Electronic submission of applications is required.
For further information, please contact:
Lindsay Hiltunen, University Archivist
Michigan Technological University Archives and Copper Country Historical Collections
J. Robert Van Pelt and John and Ruanne Opie Library
1400 Townsend Drive
Houghton, MI 49931
Phone: (906) 487-3209
E-mail: copper@mtu.edu