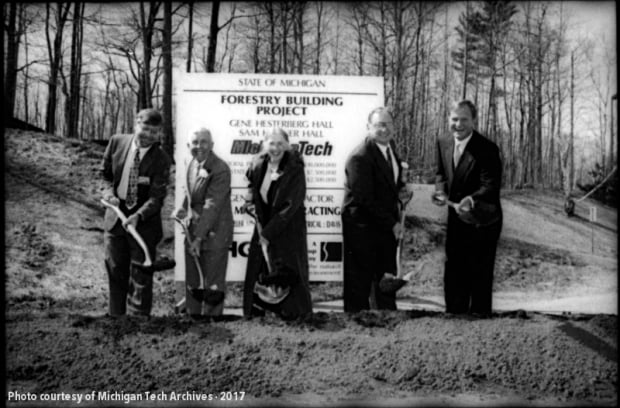 Happy Arbor Day, Copper Country! We're observing today's holiday with a Flashback Friday post commemorating the Michigan Tech Forestry Department.
Michigan Tech's Forestry Department has deep roots on campus. Under the leadership of President Grover C. Dillman, then president of the Michigan College of Mining and Technology, the Forestry Department was initiated in 1936 with a two-year degree program led by U. J. Noblet and R. B. Miller and housed in Hubbell Hall. In addition its general curriculum, the department also offered students a Forestry Club. By 1942, the department moved to the nearby Hubbell School and five years later the Institute of Wood Research was created. In the 1967 the department had expanded enough to require new facilities and in that year the U. J. Noblet Forestry and Wood Products Building was opened. That year also saw the beginning of the University's first graduate program in forestry.
Throughout the 1970s and into the 1990s the department saw major growth in terms of student numbers and changes in technology and course curriculum. Forestry enrollment climbed to 151 new students in 1970 with female enrollment reaching 25 percent by 1975. Microcomputers replaced the department's calculator lab in 1984 and in 1986 the department opened its first PhD program. Curriculum had now expanded to include wood and fiber utilization, land surveying, and other majors and certificates including ecology, environmental science, and wildlife ecology and management.
With all this change comes additional facility needs. In 1999 the university broke ground on a new building expansion project (pictured here) that would become home to Hesterberg and Horner Halls in 2000. Today, the Forestry Department thrives on the Michigan Tech campus. Students at the undergraduate, graduate, and PhD levels have excellent curricula to choose from and amazing facilities to learn and study in.
Celebrate Arbor Day at Michigan Tech today by attending the University's student-led Tree Campus USA initiative event. Meet at the Husky Statue from 12:00 to 12:30 p.m. for an opening ceremony followed by a student-led campus tree walk and tree planting from 12:30 to 1:30 p.m. with a reception to follow at the U. J. Noblet Forestry Building Atrium. During the reception, be sure to check out the informational tables from community and student organizations that support environmental sustainability and ecology or attend one of the tours of the U.S. Forest Service's underground research facility, the Rhizotron.
Want to know more about the Forestry Department at Michigan Tech? Visit the Michigan Tech Archives during our regular research hours, Monday-Friday, 10 a.m. to 5 p.m. to learn more.
Happy Arbor Day from the Michigan Tech Archives!