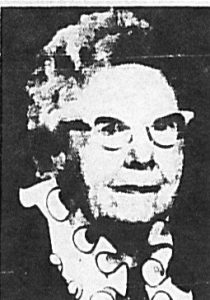 'Ruth Gibson Butler knew her own mind and had no qualms in expressing it. As a woman in the political sphere and someone passionate about the preservation of local history, she fit right in.
Like many of the women profiled in prior blog posts–such as Lucena Brockway and her daughter Anna Brockway Gray–many of Ruth's accomplishments can be described as groundbreaking: the first woman to be elected to the Houghton Village Council, a founder of the Houghton County Historical Society, a member of the Michigan Republic State Central Committee, a delegate to the 1962 Michigan Constitutional Convention, and a candidate for the state House of Representatives that same year. At the time, she was a youthful seventy years old.
A decade later, Butler expressed her thoughts about life in the mining communities she had long called home, her political activities, and challenges facing the Upper Peninsula in an interview with Paul Jalkanen through Suomi College. Her oral history reveals a woman of incredible insight, activity, and experience who was willing to call them as she saw them.
Ruth Irene Gibson came into the world on July 11, 1891 in Republic, a town in the iron mining district of Marquette County. Her father, Thomas, was a Canadian immigrant and one of 13 children. "My father was the oldest son and he had very little education," Ruth said. "But boy, was he a great guy! He had a personality that was just tremendous." Gregarious Thomas was drawn to politics and ran for a number of offices in her childhood. Her mother, Alice, was "a very talented woman," especially musically. In her home, the door was always open and a perpetual dinner invitation extended to Ruth's neighbors and friends. The Gibson parents, however, often found themselves at odds. Ruth described Thomas as "a great joker" and Alice as "almost humorless; she couldn't take a joke and she never knew when the joke was on her and she was always mad." More tragically, Thomas's struggle with alcoholism, a lawsuit that took everything the family had, and an epidemic that killed the horses his business relied on challenged the Gibson family.
In the wake of his financial difficulties, Thomas decided to leave the Republic area for the greener pastures of Ontonagon County, where he opened a livery stable. Ruth, her older siblings, and her mother joined him in Mass City in 1898. Although the business did fine, Thomas's drinking escalated over the next several years, and money intended for the Gibson household often ended up on a saloonkeeper's bar. When a mining company near Houghton offered her husband a position caring for their livestock, Alice encouraged him to take it–hoping, Ruth said, that moving away from their Mass City circumstances would help his alcoholism. Unfortunately, the job fell through, plunging the Gibsons into more trouble as Ruth began high school. "In those [times]," Ruth recalled, "Houghton was about as snobbish a town as you could ever find. Who'd have any idea [now]?" The Gibson family had limited resources at that time, and Ruth felt keenly that her classmates looked down on her for it. "These kids in school, if you weren't 'in' with the top, you were down at the bottom… their people had made a little money and money was the god, you see." Meanwhile, classmates who had immigrated "studied so hard that they were far ahead of us academically because they weren't fooling around with other things." In time, however, Ruth fit in at Houghton High School, getting involved in school plays and describing her years from 1905-1909 as "a very nice high school experience."
After graduating in the spring of 1909, Ruth's first act of independence was to go out with a Tech boy–a group that her parents had specifically forbidden her to date in high school. She described the college as "God's gift to the Copper Country girls" in light of the sheer number of male students on its campus. For Ruth, this had a particularly personal dimension. Although, after a year of serving as a kindergarten assistant, she enrolled in the coeducational Ferris Institute in Big Rapids, none of her male classmates caught her eye. Back at home in Houghton, she met Jesse Butler, who was studying mining engineering at the Michigan College of Mines. The two became sweethearts, walking to dances and riding the streetcars; they wrote to each other regularly while Ruth was away at school. When she completed her teaching program at Ferris and returned to assume a teaching position in Houghton County, Jesse proposed.
Ruth and Jesse married on April 15, 1914. Their wedding had had to wait until Jesse completed a period of military service in Mexico and secured a job at Calumet & Hecla. Fresh off the Western Federation of Miners strike, the copper district was reeling, and finding an engineering position was no small task. Jesse took a job as an ordinary miner to start. "We lived in Calumet the first year we were married," Ruth said. "Things were tough." The town had bitter feelings to spare, which the new Mrs. Butler completely understood. "The people that came in, like Mother Jones and Moyer, came in to rabble-rouse, but on the other hand the miners sure had a lot of things to gripe about." The hours were long, the pay was low, and "[James] MacNaughton, who was the general manager, was the most arrogant person I've ever heard of… you just can't conceive of such arrogance." Jesse was fortunate: he made $40 per month as a miner after the strike–decent pay for the time–and soon secured an underground supervisor position at the Victoria Mine near Rockland.
Victoria was "quite a pleasant life in some ways," Ruth said, "and some ways it was hard. One of the great tragedies of living in a mining community in the old days was the superintendent's wife… they could either make a community [a] pleasant to live or they could make it so hard for you that you wish you'd never see them again." Unfortunately, the superintendent's wife at Victoria "was quite dictatorial and in some ways she was good but she would get these ideas, and you never knew just what was going to happen. You never knew whether the thing you did was right or wrong." Community-minded Ruth looked around at her international neighbors in Victoria–immigrants from Italy, Slovenian, other parts of the Austro-Hungarian empire, and Finland–and saw an opportunity to organize folk dances in town. People loved the events, finding in them a release from the daily tension of work. Sadly, they were not to last. "Our superintendent's wife made us quit," Ruth recalled with dismay. The other woman's justification? "The people were getting too friendly. We were getting too friendly with them."
Jesse worked at Victoria and at other mines around Rockland for only a few years before the mines closed down in the face of a copper surplus. His engineering skill found a new home at the state highway department in 1920, where he remained for the next seventeen years. Meanwhile, Ruth gave birth to their first two children, Frederick Gibson and Elizabeth, and began to take increasing interest in politics. Reflecting on the matter some decades later, Ruth credited her father's political activities in her youth for sparking her fascination with government and civic engagement. As a high school student, she attended a caucus at Houghton's Amphidrome and delighted in the verbal sparring she witnessed. She voted with great excitement in her first election in 1918 and analyzed the techniques that mining companies used to ensure sympathetic candidates were elected to local offices. Both Ruth and Jesse were lifelong Republicans, and Ruth served in that party's county committee when they lived in Ontonagon County. When the Butlers moved to Baraga County for Jesse's highway job, she threw herself into Republican activities there; likewise, after political machinations forced her husband out of the highway department and the family relocated to Houghton, she took up her work yet again. Ruth remained active in the local parties for the rest of her life, although Jesse's five years of poor health before his 1950 death curtailed her involvement for a time.
In light of her extensive Republican interests, in the early 1960s one of Ruth's grandchildren proposed that she run for a position as a Michigan Constitutional Convention delegate. This foray into an elected role, at the age of 70, was Ruth's first. Competing against Democrat Carmen DelliQuadri, she won by a margin of 2 to 1, thanks in part to her own perspicacity about political issues and operations. Despite DelliQuadri's staunchly different politics, however, Ruth spoke favorably of his style and character a decade after the hotly contested election. "The Constitutional Convention [1961-1962] was one of the great things in my life," she said later. She befriended a number of prominent Michigan residents during the convention, including Congressman Alvin Bentley and Governor George Romney, whose campaign she later helped to lead as vice chairman. Although her 1962 candidacy for state representative was unsuccessful–a loss that she credited to her opponent's incumbency and the fact that voters "were not ready for a woman"–she was elected as the first woman on the Houghton Village Council and began serving in 1966. Ruth also received appointments to the U.P. State Fair Board, the Commission for the Equality of Women, and the White House Conference on the Problems of Aging around this time.
What drove Ruth's passion for local politics? It seems clear that her motivation was as much a love for the Copper Country as for politics themselves. "This is my hometown," she said in her 1972 interview.
I don't know just what's going to happen to it. I regret not being able to be around for the next 40 years because it would be so interesting to know. But I believe firmly that there will be ways of bringing this back into a moving area because it has so many things for it. The location is beautiful: there's no place that you can go that's more beautiful than the Copper Country. Rain or shine, snow or winter sun, it is a beautiful section.
Ruth balanced a firm belief in the importance of cultivating the region's future–creating an economic climate that would prevent the "export [of] our finest commodity, our young people"–with a conviction about the intrinsic value of the Copper Country's history. "History, it's been my great love," she explained. She was a founding member of the Houghton County Historical Society's museum in 1961: "Mrs. Butler begged, bullied, cajoled, flattered, and brought the idea of preserving the Copper Country's heritage to the Copper Country itself to a successful beginning with the donation of the Calumet and Hecla 'Old Infirmary' building in Lake Linden," a colleague explained later. Ruth said that her motivation was not economic or tourist in nature; rather, she wanted to preserve "the artifacts… for the people of this area." The museum did exactly what she hoped it would. This year, as a Heritage Site in the Keweenaw National Historical Park network, the museum will celebrate its 60th anniversary.
After a long, varied, active life of service, Ruth Gibson Butler died at Marquette General Hospital North in March 1981. Her funeral plans bespoke the wide network of friends and allies she had cultivated, with pallbearers drawn from the political networks of the region and its historical boosters. As Betty M. Berry wrote two years later, describing the impact of Ruth's life on the peninsula she loved, "She truly earned the nickname 'Mrs. U.P.'"