Illness and injury are an unavoidable part of life, an unpleasant reality that all must confront at some inevitable point. In a nineteenth-century mining community, the truth of this statement seemed perhaps more palpable than in most societies. Men at work underground, at the surface, or in the mill regularly sustained injuries ranging from painful to fatal. Their wives came down with tuberculosis and needed care after difficult home childbirths. Their children broke bones in accidents or caught scarlet fever. Knowing that quality medical care was available helped to reassure Copper Country residents–and keep them loyal to the mines that provided it.
Calumet & Hecla realized early on in its existence the wisdom of having a company doctor. This practice lay in the Cornish roots of many initial immigrants: in this region of England, mines employed a surgeon–who may have been more of a "sawbones" than a trained physician–for the treatment of its employees. Men uprooting themselves from the mines of Cornwall to try their hands in the Keweenaw expected nothing less from their new employers. By the early 1860s, according to Larry Lankton's Cradle to Grave, doctors were well ensconced in the Michigan mines, treating the workers of the Minesota (sic) in Ontonagon County, Keweenaw County's Cliff Mine, and Quincy, Pewabic, and Franklin in Houghton County. When the Calumet Mine and the Hecla Mine, later merged into a single C&H umbrella, opened in 1865, they arranged for a physician of their own to serve local workers. A Dr. Bruschweiler, an experienced practician, received office space in one of the newly-erected mine buildings to treat patients affiliated with the fledgling companies. Bruschweiler's practice inaugurated an era of Calumet healthcare that would last nearly 90 years.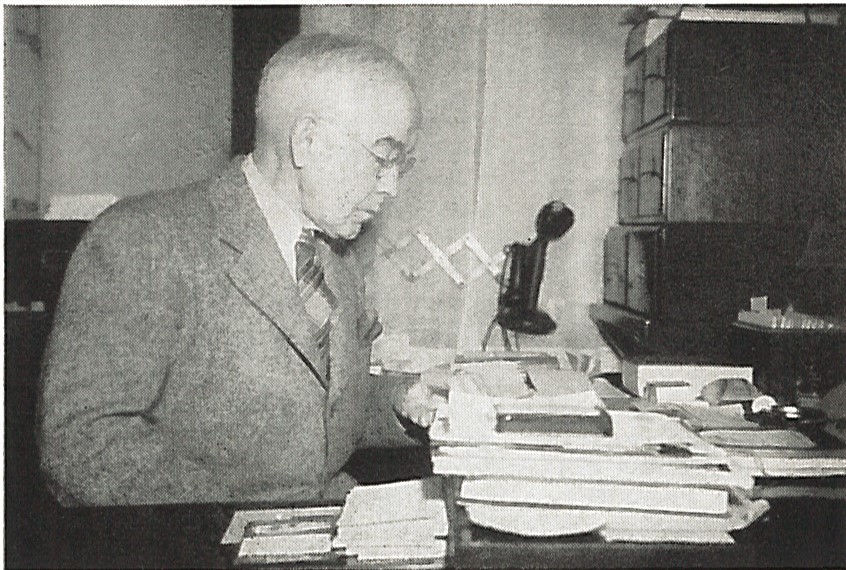 One of his successors, Chief of Medical Staff Dr. Philip D. Bourland, described the subsequent establishment of the company hospital as a remarkable feat. "While the Calumet and Hecla can not claim to originality in engaging a mine physician," he wrote in a glowing 1931 article for the Mining Congress Journal, "this setting apart of a building solely for dispensary and hospital purposes is believed to represent the first action of the kind on the part of an American industrial corporation." Bourland referred to the 1867 relocation of treatment and pharmaceutical services to a house that the two mines had intended for a superintendent. Situated just north of Church Street and Calumet Avenue, the initial superintendent's home underwent a series of expansions and renovations to help it meet the needs of a growing community in the decades to follow. By the time Bourland penned his piece, the structure consisted of two treatment and reception floors, an attic, and a basement housing a dining room for nurses, storage, and pharmaceutical preparatory materials. Patients, Bourland wrote, were greeted in a "spacious waiting room, one end of which is partitioned off as the pharmacy, where medicines of highest quality are dispensed by registered pharmacists on formal prescription by the physicians." He took care to emphasize that medications were not distributed over the counter but only under these strict controls. The hospital's telephone operator, stationed in the waiting room, not only took calls but directed individuals to consultation rooms throughout the first floor, where they met with nurses and physicians about their medical needs.
If the patient presented with a condition requiring more advanced examination or treatment, he proceeded to a number of specialty facilities throughout the hospital. By 1931, these included a "minor surgery and dressing department," where men injured on the job were first examined if they were ambulatory cases; an X-ray room that also housed a mobile unit; a urology and gynecology center; a laboratory for "routine chemical, microscopic, and bacteriologic work"; and a dark room used for eye, ear, nose, threat, and sinus checks. All of these occupied the lower level of the hospital. People admitted for surgery or inpatient treatment resided upstairs.
In 1931, the C&H hospital had 24 beds on its second floor, divided among four private rooms and sex-segregated wards. Surge capacity could bring the number up to 27 beds, if needed. Down the hall, two operating rooms–a main one and a smaller one used "for contaminated cases and tonsil work"–were equipped with various types of anesthesia as the kind of surgery demanded. Bourland described all the surgical equipment as "efficient and up-to-date… for all branches of general surgery." He prided himself not only on the quality of his hospital's devices but on the outcomes delivered. "As to both general and urgent surgery," he declared to Mining Congress readers, "it is believed that in equipment and results obtained that the Calumet and Hecla Hospital need not fear comparison with much larger institutions." Moreover, "the high grade of care given hospital patients is deserving of mention." Nurses and their assistants bathed patients and changed their bed lines on a daily basis. A call system installed at all patient beds allowed them to summon staff without disturbing their neighbors' rest. "Food is of the highest quality obtainable," promoting general good health, "is well prepared and served in an attractive manner." No one wanted to need the hospital, but the knowledge that one's stay there would be as comfortable as possible must surely have soothed some nerves.
Who came to the C&H hospital for what kind of care? And who treated them once they arrived? Although company affiliation was not strictly required for treatment, Calumet & Hecla employees, their spouses, and any minor children had the benefit of enrolling in a program that provided them access to preventative, medical, and surgical care in exchange for a small monthly charge. Lankton noted that the cost, set in the early 1850s, persisted for decades: each single man contributed just fifty cents, and married men paid a dollar. By 1931, the two groups were charged equal fees. "For… professional work there is no charge other than the small monthly deduction," said Bourland. Medications, laboratory procedures, X-rays, and "special diagnostic technique" also came as part of the package. Inpatient services began to incur additional costs. In the early 1930s, a person admitted to the hospital paid $2 daily or $13 weekly for a ward bed and $2.50 to $5 for more private accommodations. Meals were included. The charge for a surgical procedure ranged from $3 to $10, "according to the amount of work and material involved." Anesthesia, fortunately, did not carry a separate price tag.
The staff treated a wide variety of injuries and illnesses, both in the hospital and at home visits. "The medical department… gives full medical and surgical service," Bourland wrote. "Obstetrics is included," though women requiring hospital admission related to pregnancy were referred to Laurium's Memorial Hospital or the Lake Superior General Hospital in Lake Linden. In recognition of the significant role that they played in bringing babies safely into the world, C&H made financial contributions to each medical center. Additional exclusions on care, ones not so widely advertised, also applied. "The mine superintendent served as the hospital's gatekeeper" to minimize the expenses that it incurred, wrote Lankton. A man presenting for treatment of a venereal disease would regularly be turned away; for a time, those injured while intoxicated were also directed elsewhere for help, both under the orders of company president Alexander Agassiz. Intervention from chief physician A.B. Simonson in 1903 overturned the second directive, but the first remained in force for some time. While doctors made regular home visits for serious and chronic illnesses, C&H's policy discouraged them from having those patients admitted to the hospital unless circumstances merited. "At times, if we have room, we take care to extreme sickness," said the company's general manager James MacNaughton, "but at no time do we bind ourselves to do so."
Within the parameters of care, the hospital and its staff remained bustling. Even in 1931, when the population of the Copper Country had started to decline, an average of 700 patients were hospitalized annually. About 30 percent of those were individuals undergoing simple tonsil surgeries, staying for only one night. Some 900 X-ray examinations for diagnostic purposes were made each year. Simple injuries requiring dressing and minor surgery totaled anywhere from 16,000 to 18,000 in a year. Over a period of six years, Bourland reported, some 1,000 major surgeries–including appendectomies, thyroidectomies, and hernia operations–took place in C&H's operating rooms, along with 2,500 more minor matters. A new physical therapy, hydrotherapy, and massage division had also recently begun service as of 1931.
To minister to these needs, the Calumet & Hecla hospital employed a substantial medical and support staff. A handful of pharmacists and their assistants, always on site or on call, kept busy compounding and filling prescriptions. The number of physicians and surgeons employed at any given time varied, but their devotion to their craft remained consistent. In 1931, for example, doctors held office hours from 8am to 10am and 4pm to 6pm every day but Sunday. "The physicians feel that only urgent necessity can absolve them from attending" these office hours, said Bourland. The remaining times they filled with scheduled and emergency surgeries, house calls, pre-employment physical examinations, and consulting medical texts in the hospital library. C&H also encouraged each man to maintain a private practice in addition to his company work, figuring that these outside responsibilities helped a physician stay abreast of developments in the field.
Nurses at C&H played a pivotal role in providing skilled, quality care to patients. The vast majority of women that the company hired for this position came to Calumet from hospital training programs, the center of nursing education at the time. A head nurse or nurse supervisor, experienced in her field, led the team and provided examples of practice for less seasoned peers. C&H compensated these supervisors well for their era: Sydney Dorman, hired in 1915, earned $75 per month and received her lodging at the hospital free of charge. Later, "it was found that it would be necessary to provide a home for the nurses entirely apart from the hospital," offering them some work-life balance and a private room for each woman. Reflecting the increasing professionalization of this field, Bourland was proud to declare that "all [nursing] service to patients except that of the most trivial nature is given by graduate nurses," and a 1945 company newsletter listed each woman's registered nurse credentials after her name. A number of assistants worked with the nurses, taking care of basic care needs. Regularly, women who started in these roles discovered a passion for medicine through their work, departing C&H to begin professional training at a Chicago program with which the company was associated. Likewise, undergirding all medical work at the C&H hospital were a hardworking array of staff in its laundry, maintenance, and cleaning divisions.
Throughout its lengthy existence, the Calumet & Hecla hospital enjoyed the appreciation of C&H workers, their families, and community members for the quality of its medical care. Indeed, despite the tumult of strikes and employer-employee tension, public opinion on the hospital remained generally favorable. Yet alternatives to a company medical facility began to emerge in the wake of World War II, and 1953 contract disputes between C&H and the United Steelworkers of America showed that the tide had turned. Union negotiators called for a new benefits package that incorporated financial allowances for medical care, a move that the company felt would fiscally necessitate the hospital's closure. Open enrollment for the proposed package began on May 25, 1953, and by May 28, enough employees had signed up that C&H declared the hospital closed permanently. Its medical services ceased on June 1, with staff shifted to new buildings for first aid and employment examinations. Whether for better or worse, in the words of the company, "another tradition in the history of the Copper Country [had] now come to an end."