Rich Schalter, a graduate of the SBE and President of Spartan Chassis, talks about how knowing your brand plays a key role in success of a product.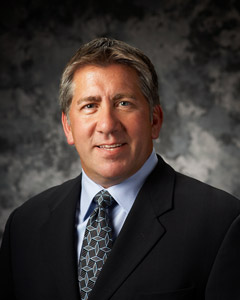 Q: What was your major and concentration at MTU?
A: My major was accounting and my concentration was focus on being a part of the MTU ski team. I skied everyday and went to classes most days. Due to the strength of my accounting education at MTU, I quickly passed the CPA exam and then received my CPA certification.
Q: Can you link any qualities of being in a student organization to being successful in business?
A: Absolutely. At Spartan, we are an innovative team focused on building lasting relationships. We consistently improve ourselves, our products and our processes through learning, sharing and implementing ideas. Just like being a part of the ski team, we make commitments to each team member and we work together to improve each others skills.
Q: Did you have any experiences or classes at Tech that helped you compete in the work force against other students?
A: The intensity of the class schedule to graduate in four years provided a spring board for developing the necessary study and organizational skills needed to drive success in business. Additionally, the openness of the faculty to providing direct guidance regarding the subject matter and the application to career choices broadened my perspective for my chosen profession.
Q: What is your current position?
A: After starting as the CFO of Spartan Motors in December 1996, I became the president of our largest subsidiary, Spartan Chassis, Inc., in March of 2002 and additionally serve as the executive vice-president of Spartan Motors, Inc. and a director for Spartan Motors, Inc.
Q: What are you main job responsibilities? What do you do on a daily basis?
A: My main responsibilities are the setting of the vision and strategy for Spartan, establishing the brand of Spartan and creating the culture necessary for growth in our markets. As a supplier to body builders of motorhomes, fire trucks and military vehicles, it is necessary to establish strategic relationships given the integration and dependence upon our products and our people.
Q: What does your company do?
A: We design and assemble custom chassis for vehicles in the emergency rescue, motorhome and defense markets. The company was founded in 1975 on the design and assembly of custom cabs and chassis for fire trucks and shortly after going public in 1984 expanded into motorhome chassis. We are proud of our current involvement in the production of MRAP vehicles, which are proving to save the lives of our men and women in theatre.
Q: On your website you mention your main focuses which are motorhome chassis and fire truck chassis. What are some of the advantages of focusing on fewer product lines than several product lines?
A: Basically this type of focus allows us to attack our competition collectively. We have great builder recognition and a reputation where people are asking for Spartan Chassis in the products they purchase. That doesn't happen very often, especially in the motorhome business. Usually a buyer tends to look more at the body and features of motorhome living.
With our fire truck chassis, we service 60 builders and meet annually with fire chiefs to address their changing needs.
Another part of our company not mentioned on the website is our auto integration for military vehicles. In the 700-800 vehicles we have produced, there have been no casualties reported.
Q: Do you have any advice for current students in the School of Business and Economics?
A: Starting with the first day you obtain a position with an organization, get engaged to understand the global perspective, purpose, brand and operational focus of the enterprise of which you are an integral part. Know your personal brand, who are you, what do you do, why do you matter.
Q: Is there anything you wish you knew as a student that you know now as a business professional?
A: I would have to say knowing how to discipline yourself is important. Staying on top of your commitments and recognizing what is important. Knowing when and how to study can create more free time for yourself.
I would tell students to understand their own personal brand. Students should live according to how they want to be perceived. For example, when someone mentions your name, do you want to be known as a hard worker and someone who is reliable or someone who cannot be counted on?
Finally, I could have learned more from my professors in and out of the classroom. I was a quiet student who didn't get involved in class discussions and I wish I would have engaged more.