Each spring, senior-level students in the School of Business and Economics (SBE) select a slate of faculty to be considered as SBE's teacher of the year. These faculty are known to go above and beyond and have a positive impact on our students, the School, and the University.
This year's finalists include: Heather Knewtson (finance), Sheila Milligan (accounting), and Joel Tuoriniemi (accounting). Candidates are voted on by all SBE students and the 2018-19 teacher of the year is Junhong (Jun) Min (marketing).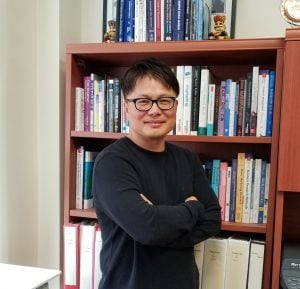 Min is recognized for his dedication, passion, and for going the extra mile to support students. One nominator wrote: "Jun Min genuinely cares about his students and their success. He goes out of his way to hold meetings after class, just to get to know his students and their goals." He gives his time and resources, developing connections for students that lead to paid internships, co-ops, and full-time employment.
Min also serves as the advisor to the Michigan Tech student branch of the American Marketing Association (AMA). Congrats, Jun, and thank you, students!