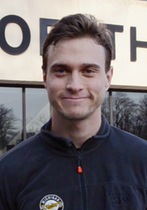 Tech's Cuenot Wins Men's 20K Freestyle at the Telemark Series
The Michigan Tech Nordic Ski Teams were on the road again last weekend traveling to Cable Wisconsin to race in the Telemark Series at the Birkie Trailhead.
The Huskies had success in the freestyle competition Sunday. The men's team competed in a 20K and the women raced in the 15K.
Gaspard Cuenot won his race, crossing the line seconds before Northern Michigan's Adam Martin. Following Cuenot was David Jaszczak in ninth place, Tom Bye, 14th, Tomi Mikkonen, 27th and Mark Wenzel, 38th.
"It's great that Gaspard got his first NCAA win, and against a strong field," said Tech Head Coach Joe Haggenmiller.
In a field of 33 racers, Carolyn Lucca led the Huskies in 14th place with a time of 57:04.7. To read the full story and find out more about Michigan Tech Sports, visit michigantechhuskies.com.