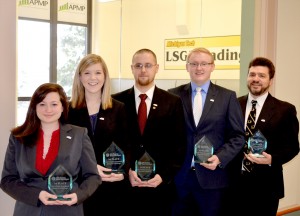 Michigan Tech's student team took first place at the CFA (Chartered Financial Analyst) Institute Research Challenge held in Kalamazoo recently. With the win, the team advances to the Americas Regional competition to be held in Toronto, March 20-21.
In the challenge, the students from five universities analyzed Perrigo, a pharmaceutical company, and made investment recommendations to them. The Michigan Tech team had traveled to Perrigo's headquarters last semester to begin their research. The challenge was held on the campus of Western Michigan University.
"We based our recommendation on four basic factors: strong business fundamentals, sustainable growth factors, positive industry outlook and limited risk factors," said team member Jessica Zaiki. "Paired with strong financials, these fundamentals gave us an overall buy recommendation for Perrigo."
Teammate Anna Paul added, "Since we've made our recommendation, the Perrigo's price has risen and is approaching our target price."
"The team had to prepare written reports and oral presentations to a panel of Wall Street executives," said advisor Dean Johnson, the James and Delores Trethewey Professor in the School of Business and Economics. "It's a wonderful opportunity for students to have a real-world experience of what it's like to make an investment recommendation."
The Tech students participating are also members of the Applied Portfolio Management Program (APMP), a student group that invests more than $1 million in the stock market.
Other schools participating in the competition were Grand Valley State University, Ferris State University, the University of Toledo and Western Michigan University.
The Research Challenge was hosted by the CFA Society of West Michigan, an association of investment professionals: portfolio managers, security analysts, investment advisors, and other financial professionals.
Jeff Tryka, CFA Society of West Michigan president, congratulated Michigan Tech and said, "This is the third year we've sponsored the competition, and each year we have seen the quality of research and presentations improve on those of previous years, so it's clear that every student who participated in the competition should be proud of their accomplishment."
"We're very excited to be heading to Toronto to represent Michigan Tech and the whole region to the next level," said team member Eli Karttunen. "It's an amazing opportunity for which our hard work is paying off."
Financial support for the students' participation in the CFA Challenge also came from James and Dolores Trethewey.
Written by Dennis Walikainen, senior editor in University Marketing and Communications.