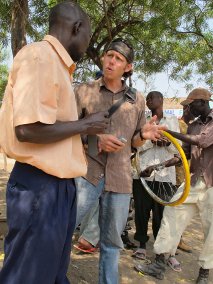 April 2, 2012—
Michigan Technological University students placed first and third in the New Venture Competition held recently on the campus of Central Michigan University. The first place team also was named Best Social Venture.
Ben Mitchell and Wade Aitken-Palmer won for creating better bicycle components for rural Africans who depend on their bicycles for their livelihood. Their idea, called Baisikeli Ugunduzi (Swahili for "modern bicycle"), captured a $30,000 first prize and another $10,000 for Best Social Venture, for its sustainability and social impact, among other criteria. The invention is a tube that eliminates flat tires.
Mitchell, a PhD student in mechanical engineering, and Aitken-Palmer, a student in the Peace Corps Master's International program, have been working on the business idea since last year. Mitchell said the inspiration began with his stint in the Peace Corps a couple of years before that.
Thanks to the big win, he is planning a trip to Kenya in May to begin with more market testing.
"We are working with bicycle taxi drivers, who can go through many tubes in a month," Mitchell said. "The tubes will have to be produced in Taiwan, as there are no production facilities in Kenya."
Assembling will take place in Africa, however, and that will create some jobs.
"Our first hire will be a mechanic," he said. "And he could do some modifications as well."
Phil Musser, executive director of the Keweenaw Economic Development Alliance and mentor to the winning team, was not surprised at their success.
"It was clear from the beginning that they were serious about this business," he said. "It was just a matter of them following through with organizational details and financial projections. It was a pleasure to work with them. Their work will have a serious social impact," Musser added.
Jim Baker, executive director of innovation and industry engagement for Michigan Tech, was the key liaison between Central and Tech.
"I stepped in when Bob Mark passed away," Baker said, referring to the late professor of practice who started the collaboration with Central. "John Leinonen (program director of the Michigan Tech Enterprise Corporation SmartZone) and student Travis Beaulieau were instrumental in keeping the teams moving forward and better prepared for the competition."
Mitchell said, thanks to the all the help and the win, Baisikeli Ugunduzi has secured additional local funding assistance too.
When they began, Mitchell said, he had some catching up to do on the business side of things, but they did have a more thought-out design and a more developed prototype than most, thanks to their engineering backgrounds.
He has high hopes for the future.
"Some 50 million sub-Saharan Africans depend on bicycles," he said. "As our mission statement says, we work with mechanics and bicycle taxi unions to design, produce and distribute products that add value to working bicycles and improve the livelihoods of bicycle taxi drivers, messengers and others who earn a living on their bicycles."
Musser said it was a great experience for the six Michigan Tech teams who traveled to Mt. Pleasant and advanced past the first round. Teams actually began their work on projects in August and met weekly since then. On the Tech campus, Elevator Pitch Competition and New Business Venture Competitions helped prepare them for Mt. Pleasant. A total of thirty teams squared off at Central Michigan University.
Mitchell also praised Central Michigan for hosting the event.
"They did a tremendous job coordinating the whole event, with all the judges and student teams," he said. "It was very well orchestrated."
Central has also invited Baisikeli Ugunduzi back to talk about how it all develops in the future.
The New Venture Competition is a joint Central Michigan/Michigan Tech event. Locally, the competition is sponsored by the MTEC SmartZone, the Keweenaw Economic Development Alliance, and the School of Business and Economics.
Runner-up in the finals at Central Michigan was MVMT Media Products, an entry of Central Michigan students Sean Armstrong and Jeff Wegner. Their business would manage high-quality online video content. They took home $10,000.
Winning third place and $5,000 was Picket Books, the brainchild of Michigan Tech students Kyle Johnston, a biomedical engineering major, and David Shull, who is studying computer engineering. In their business, students rent textbooks from each other online, streamlining the process and reducing the costs.
"The prize money will be re-invested in the Houghton area," Shull said. "We are hoping to find students to be a part of a startup to assist in our development work over the summer. We are looking to launch Picket Books by spring 2013."
Shull talked about the overall experience.
"Over the weekend, I began to realize what makes Michigan Tech so special," he said. "Most of our CMU competitors were majors in entrepreneurship or business, while many of the students competing for Tech were engineers or majors other than business. I think Tech's emphasis on entrepreneurship while educating a generation of engineers proves Tech students can build businesses that will lead the world in innovation and creativity. The investment in competitions like this one are creating Tech's future in the world of business, one student at a time."
The prizes were awarded by Michigan's Lieutenant Governor Brian Calley.
Michigan Technological University (www.mtu.edu) is a leading public research university developing new technologies and preparing students to create the future for a prosperous and sustainable world. Michigan Tech offers more than 130 undergraduate and graduate degree programs in engineering; forest resources; computing; technology; business; economics; natural, physical and environmental sciences; arts; humanities; and social sciences.