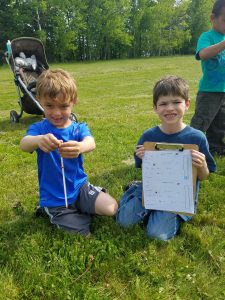 Registration is open for after school science and engineering classes for students in grades 1 – 5. Six class sessions will take place from 4 to 5:30 p.m on the days specified by the class. Houghton Elementary School bus will drop off students at the GLRC by 3:45 p.m. Transportation from Houghton Elementary will be provided by Lamers at no additional cost.
Students will get to experience hands-on explorations taught by Michigan Tech science and engineering students and staff at the Great Lakes Research Center (104 GLRC). The different class options are listed below.
Grades 1-2: Rock and Roll!
This class takes place on Tuesdays (Oct. 8 – Nov. 12). Students will explore rocks, learn about fossils and participate in hands-on activities to discover the many uses of minerals! Erika Vye, from the Geological & Mining Engineering & Science department will be the instructor.
Grades 3-5 Autumn Animal Adventures
This class takes place on Mondays (Oct. 7 – Nov. 11). Set trail cameras and sticky traps to see which animals and insects call the MTU campus home. Learn about habits and habitats of bats, bears and wolves. Students will explore wildlife ecology in the classroom and outside. Brian Doughty, M.S. Biological Sciences, will be the instructor.
The cost to enroll in an after school class is $95 per student. Registration deadline is today, (Oct. 3). Register online. Any questions can be directed to 7-3341 or  jchadde@mtu.edu.