Last week I made a short trip down to SW Michigan, to visit some of our industrial partners, and to pay visits to some old friends and new colleagues. It was my first time in that part of the state and I enjoyed it thoroughly.
Upon arrival in Grand Rapids, I picked up my rental car which turned out to be a new Volvo station wagon, and I got a quick lesson on where things are headed with autonomous vehicles. When I merged onto the highway and turned on the cruise control, I quickly figured out that it had a feature called "adaptive cruise control." This is where the vehicle measures the distance to the vehicle in front using radar, and adjusts the speed as necessary to maintain a minimum distance between the two, where the safe following distance depends on the speed. I was familiar with this as I had experienced it once in a rental car about a year ago, on vacation in Colorado. At that time, I did not know quite what was happening and actually thought the cruise control was broken as the car kept slowing down on I-70 with lots of traffic. It was only when I got out on a two-lane highway, with just me and the car in front, that I figured out what was going on, and was amazed at how well it worked. On this latest trip, I felt I was already an old pro at adaptive cruise control, but was amazed all over again when I realized the Volvo was driving itself! This is another new feature called "pilot assist" that uses both video cameras and radar sensors to keep the vehicle in the center of the lane. It was kind of spooky at first when I realized that the steering wheel was moving on its own, ever so slightly, but again it was remarkable how well it worked. This was at night, in good weather and on a clear highway with bright white stripes reflecting my headlights, so it was not a challenging control scenario. Even so, I was impressed at how smooth and steady the vehicle was going right down the middle of the lane. I could even take my hands off the wheel entirely! It would issue a little warning after about 15 seconds, and then I would have to put my hands on the wheel again or just tap it gently to keep the system engaged. I guess it just wanted to be reassured that I was still there.
Adaptive cruise control and pilot assist are examples of what the Society of Automotive Engineers (SAE) calls Level 2 autonomy. They define 6 different levels of autonomy, from 0 to 5, with 0 being no autonomy whatsoever (i.e. old-fashioned human driving) and 5 being total autonomy in all conditions. Level 2 autonomy includes these kinds of driver assist technologies that can partially take over the accelerator, brakes, and steering for relatively simple tasks, with the expectation that the driver is paying attention at all times. I hope that is a realistic expectation. I have to confess, the pilot assist feature really did make it easier for me to eat lunch in the car. We are not close to Level 5 autonomy yet, but auto manufacturers are making progress at a pretty good clip, and there are optimistic projections on when we might see Level 4 cars on the road. A lot of people are pretty nervous about the prospect of autonomous vehicles. My guess is that we will get used to them not all at once, but rather one feature at a time like in my experience with the rental car. It will come with a pull, not a push: drivers will see how easy it is to use the new-fangled technology and how it makes their lives better, and then they will be demanding more and more.
This is as good a place as any to put in a plug (again) for our Robotics Systems Enterprise. Michigan Tech is one of eight North American universities participating in the GM/SAE AutoDrive Challenge, a collegiate competition in which students will integrate sensors and develop the control algorithms to take an existing vehicle (a Chevy Bolt) and make it autonomous. This is an interesting step for SAE, which has a lot of automotive collegiate competitions; Michigan Tech mechanical engineers participate in several and do very well. In the AutoDrive Challenge, the automotive powertrain is off limits; the students have access electronically only to the accelerator, brakes, and steering, and beyond that it's all about the sensors and controls. This creates a lot more opportunities for participation by electrical engineers, computer engineers, and computer science students. The Michigan Tech team is hosted in the Robotics System Enterprise, led by ECE faculty member Dr. Jeremy Bos and ME-EM faculty member Dr. Darrell Robinette. I am looking forward to witnessing the Year 1 competition in Yuma, Arizona, at the end of this semester, and I am quite certain you will read about it here.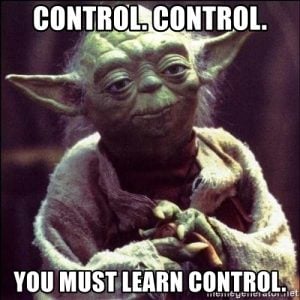 My automobile experience was only one of several times on this trip when I was reminded about the opportunities for electrical engineers in the area of controls. The industrial partners I visited confirmed for me what I have seen and heard many times before at Career Fair and with our External Advisory Committee, that automation is everywhere and that electrical engineers who have controls expertise are in high demand. This is one of the reasons we took our controls course in the EE curriculum, moved it to the junior level, and made it a required course. This is a good time to be studying electrical engineering and entering the job market, and graduates who can claim some expertise and experience with control systems will find many more doors opening up.
Electrical engineering is a huge field of course, and even within the sub-field of controls there are several flavors. At one end of the spectrum we have industrial control systems, where the tool of choice is the Programmable Logic Controller, or PLC. Such systems are found in factories and other industrial facilities like steel mills and chemical process plants, and in buildings with elevators and air conditioners. Some electrical engineers find that PLCs lack the mathematical complexity that might make them interesting, but as far as I am concerned, anything worth doing is worth doing well. If engineers and engineering students see a need that is addressed with a certain technology, and see challenges and rewards working in that field, then they should be encouraged to do so as long as they do a good job. Michigan Tech has a two-semester PLC course sequence, cross-listed between the ECE Department and the School of Technology, taught in a beautiful new facility that was renovated with gift funds from Nucor Steel.
"Traditional" or "classical" control theory often involves the electrical control of mechanical systems, and so is taught in EE and ME departments, and it shows up in almost all engineering disciplines in one form or another. The typical paradigm involves a "plant" – something to be controlled, like a motor – along with sensors that measure what the plant is doing, and actuators that control its behavior. The sensor outputs are fed into a control algorithm which also has inputs indicating the desired plant behavior, and this in turn determines the actuator signals that tell the plant what to do, creating what is called a "feedback control system." Understanding how such systems work requires a lot of the mathematical machinery taught in undergraduate EE and ME curricula, such as differential equations, Fourier and Laplace transforms, and complex analysis. Feedback control systems show up all the time in the natural and biological world – think of birds flying or your heart beating – and many of our solutions to technological problems mimic that behavior.
More recently we have seen the emergence of control algorithms and control systems that are driven by complex computer algorithms, such as those from the worlds of artificial intelligence and machine learning, that are highly complex and cannot be boiled down to a few mathematical equations as is often the case in classical control theory. Systems that have both cognitive and physical attributes like this are called "cyber-physical systems." These control systems have seen explosive growth in recent years, due in large part to the speed and power of computing systems that are just now getting to the point where the algorithms can reasonably be expected to work on practical time scales. The autonomous vehicle is the most prominent example of a cyber-physical system in today's culture, with all of the cognitive processing that has to take place between the cameras, radars, and lidars (the sensors) and the steering, accelerator, and brake (the actuators). The emergence of cyber-physical systems has greatly elevated the importance of computing and computer science in engineering applications, a trend that I believe merits close attention at Michigan Tech and similar educational institutions.
The next time you are out driving, pay attention to all the human processing you are doing to keep your vehicle going where you want, at the speed you want. There is a lot happening there. Now think about how we might mimic that with cameras and computers. It is scary and exciting all at the same time, but there is little doubt that the day is coming when the computer/electrical/mechanical control system will be doing more and the human less, not just in cars but in everything we get our hands on. It is a golden opportunity for today's students in electrical and computer engineering. I hope they make the most of it.
– Dan
p.s. thanks to ECE faculty member Jeff Burl for bringing Yoda's sage advice to my attention.
Daniel R. Fuhrmann
Dave House Professor and Chair
Department of Electrical and Computer Engineering
Michigan Technological University
---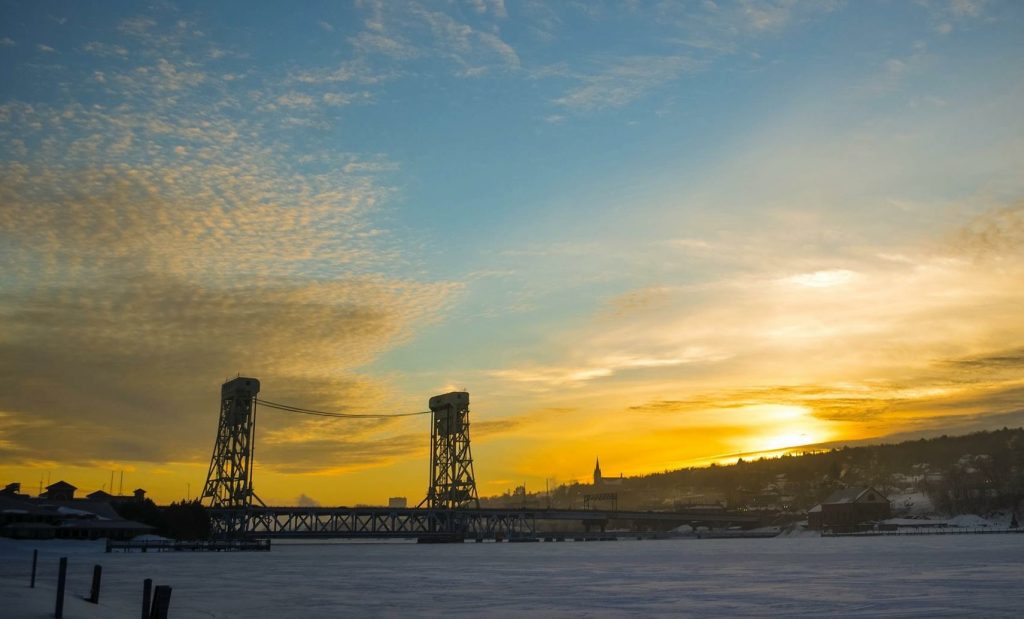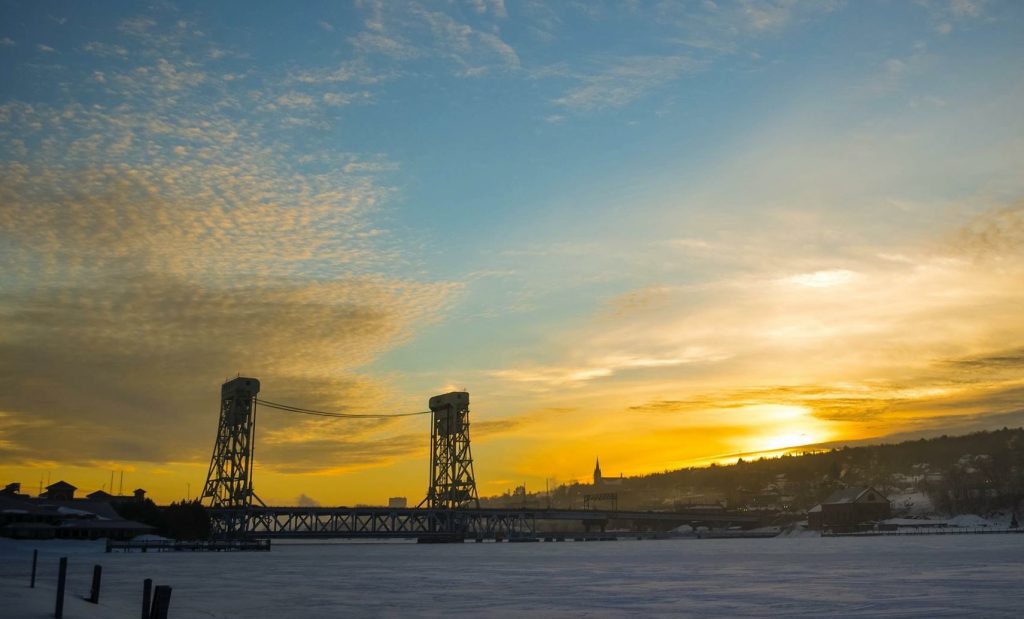 Today is the last day of winter break before classes start for the Michigan Tech "spring" semester, not counting the upcoming three-day holiday weekend. It still looks very much like winter outside, although we got a short-lived January thaw in the middle of this past week. A winter warm-up always reveals a lot of mud, muck, and other detritis, so despite the driving difficulties and public school closings, a fresh snowfall always brightens things up a bit. I thought this might be a good opportunity to mention a couple of other things that have brightened my day recently.
Our teaching evaluations for the Fall 2017 semester came back, and I was very pleased to see how well the department did in the eyes of our students. These evaluations are conducted online, before final exams, and consist of a series of survey questions with answers on a 1-to-5 scale. When we are boiling down the results, we typically look at one particular question that asks how strongly the student agrees with the statement "Taking everything into account, I consider this instructor to be an excellent teacher." The department-wide average on this one question was 4.35, and the median was 5: 55% of the respondents indicated "Strongly Agree" with this statement. We also look closely at the average of 7 questions that deal with more the details on how the course is organized and taught – the so-called "Average of 7 Dimensions" – and on this one our average score across all respondents was 4.32. These results include courses taught by tenured and tenure-track faculty, our non-tenure-track faculty, and even the labs taught by our teaching assistants. It is the best we have done since the Fall 2014 semester, when we first started the online surveys and aggregated results were made available. Naturally I am very pleased to see this, and the timing couldn't be better, as we are seeing an increase in our undergraduate enrollments in ECE. Of course, there may be other factors at play – the strong job market for EEs and CpEs might just be putting our students in a good mood when they fill out the surveys. I didn't talk to a single ECE graduate at the December commencement who didn't have a job lined up! Nevertheless, I will take what I can get, and congratulate the department faculty on a job well done.
Congratulations as well go to Assistant Professor Sumit Paudyal on the recent announcement of his National Science Foundation CAREER award. This is a 5-year grant that goes to early-career faculty in the U.S. that show exceptional scholarly promise. Prof. Paudyal's project is titled "Operation of Distribution Grids in the Context of High-Penetration Distributed Energy Resources and Flexible Loads", and in it he will bring state-of-the-art theoretical and computational tools in optimization (particularly mixed-integer second order cone programming, or MISOCP) and in robust and distributed control to the problem of managing the large and growing number of distributed energy resources and flexible loads in next-generation energy systems. Sumit was hired five years ago under a special Michigan Tech Strategic Faculty Hiring Initiative (SFHI) in Next-Generation Energy Systems, and this has turned out to be an excellent hiring decision for Michigan Tech. About a year ago I wrote about all four of our assistant professors in the ECE Department, and with this turn of events I can now announce that all four have garnered prestigious early-career awards – three NSF CAREER awards and one Air Force Young Investigator awards. Nice going Sumit and all!
Finally, this week I was especially pleased to learn that Lisa Hitch, the ECE Business Manager and Technical Communication Specialist, was recognized for her service to Michigan Tech and the ECE Department with the "Making A Difference" award, in the category "Above and Beyond." This is an annual award organized by the Michigan Tech Staff Council; there were 47 nominations and 7 award winners across 6 categories. Lisa and all the award winners were recognized in a special ceremony this past Wednesday, with the award presented by university president Glenn Mroz. Lisa really does go "above and beyond" for the ECE Department, in ways too numerous to mention but one in particular being to help me push this column out every week. The award is extremely well-deserved and so Lisa, thank you for everything you do!
First day of classes next Tuesday. Start your engines everyone!
– Dan
Daniel R. Fuhrmann
Dave House Professor and Chair
Department of Electrical and Computer Engineering
Michigan Technological University
---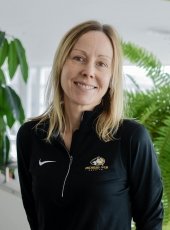 ECE Business Manager and Technical Communications Specialist Lisa Hitch was recognized at the 2017 Making a Difference Awards reception on January 10, 2018.
"During our recent ABET visit, our department chair was suddenly called away from our department at a critical moment in the evaluation process. Without hesitation, Lisa organized the details of the department meetings between our ABET visitors and more than 50 students, staff, and faculty in a matter of hours. As a result of her intervention, the visit proceeded without interruption. When our chair returned, he found a department visit so smoothly tuned and ready that it went forward flawlessly. Without her initiative the meetings would have been hopelessly uncoordinated and left a terrible impression on our visitors. She saved the day for all of us."
A total of 47 Michigan Tech staff members were nominated for 2017 Making a Difference Awards. Hitch received an award in the "Above and Beyond" category. The awards are organized by Michigan Tech Staff Council.
Congratulations to Lisa!
---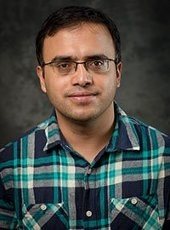 Sumit Paudyal (ECE) is the principal investigator on a project that has received $500,000 from the National Science Foundation. The project is entitled "CAREER: Operation of Distribution Grids in the Context of High-Penetration Distributed Energy Resources and Flexible Loads."
This is a five-year project.
Abstract
The number of distributed energy resources (DERs) and flexible loads such as photovoltaic (PV) panels, electric vehicles (EVs), and energy storage systems (ESSs) are rapidly growing at the consumer end. These small distributed devices connect to low voltage power distribution grids via power electronic interfaces that can support bi-directional power flows. Despite being small in size, if aggregated, these devices a provide significant portion of the energy and ancillary services (e.g., reactive power support, frequency regulation, load following) necessary for reliable and secure operation of electric power grids. In future distribution grids, with numerous such small active devices, real-time control and aggregation will entail computational challenges. The computational challenges further increase when the aggregation requires coordination with legacy grid control actions which involve integer decision variables, such as load tap changers, capacitor banks, and network switches. This CAREER project concentrates around solving operational and computational issues for distribution grids with large penetration of DERs and flexible loads.
---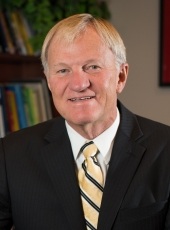 A very Happy and Healthy New Year to all FWF readers! Michigan Tech has been closed for all intents and purposes from December 23 to January 1, but things are starting to pick up as we prepare for the Spring 2018 semester, which begins on January 16. The weather has been rather cold, like in the single digits or below every day for the last two weeks, but we have also been getting a decent amount of powdery snow on a regular basis, and the ski conditions are as good as I have ever seen them. Not a bad time to be in Houghton if you ask me.
As we kick off the new year, I thought I would share with you some words from our university president, Dr. Glenn Mroz. He read these comments as his opening remarks at the most recent meeting of the university Board of Trustees, the day before our December commencement. He meant them as a sort of holiday message, but I believe they work just as well for the new year. This will be Dr. Mroz' last full semester as President of Michigan Tech, and with these words I think he sets just the right tone for the future of the university.
---
Ongoing political events, the turn of the calendar and our campus-wide discussion of the University's strategic plan got me thinking about the word "value." It's used everywhere. Value stocks. Value voters. Value of education. Value of a degree. Family values. "Value" seems in vogue now more than ever. Perhaps because we think we know what it means; we think that it communicates a shared sense of importance or impact to whatever it's attached to, and for whomever we may be communicating with. Or, perhaps, ironically, and somewhat cynically, because we tend to emphasize what seems to be in short supply in our society. But not here.
In many of my opening remarks at these meetings, and in communications with key alums around the world, I've emphasized "value" in terms of high student placement rates and starting and mid-career salaries, return on investment, and low student loan default rates. I've also talked about value in terms of the basic societal good that comes from students and grads who can accomplish amazing feats, having been the beneficiaries of a hands-on, minds-on education. Those examples certainly communicate a lot of value for what makes Michigan Tech, Michigan Tech and its relevance to the State and Nation. But, as George Bernard Shawonce noted, "the single biggest problem in communication is the illusion that it has taken place."
And I fear that my data-driven attempts to keep people apprised of what Michigan Tech is, and perhaps is not, has at times missed an essential ingredient and that is the "heart" (perhaps soul) of Michigan Tech.
As faculty, staff, students, alumni and friends, we are a numerical bunch! We use data and facts to persuade and prove points that are otherwise hard to imagine or explain. But heart rests on values that have to be inherently true, simple, and without ambiguity.
Through thousands of interactions with our alums, I've come to know the personal inner strength that carries people through times when circumstances are conspiring against them – its the strength and ability that's required to make the right decisions, when all your options look pretty grim. These are the critically important decisions; or to paraphrase Jim Collins the decisions that lead to greatness. Because greatness is not a matter of circumstance, it's a matter of choice and it's a matter of will.
That's why the "heart" of Michigan Tech is as much a part of Michigan Tech's strategic plan as any goal, metric, accomplishment, or challenge. It provides the "will" to do what's right for the institution and the people it serves. So while the standard planning exercises of SWOT analysis, creating mission and vision statements, goals, and metrics are important, it's perhaps more important to have defined who we are as the Michigan Tech community, on campus and around the world. After all, someone has to have the will to take what's written and agreed to as the plan, and make it so.
Tough times have a way of riveting your attention, and so it was that about nine years ago, a time frequently referred to as the Great Recession, a group of students, faculty, and staff set about to distill the inspirational and aspirational essence of Michigan Tech; to identify the critical values of the people that drive our plans for the future. These are:
We Inspire Community
We inspire an engaged community that actively seeks improvement through acceptance and understanding.
We Inspire Scholarship
We inspire world class scholarship through academics, research, development and continued learning.
We Inspire Possibilities
We inspire the exploration and creation of all possibilities through innovative use of our skills and knowledge.
We Inspire Accountability
We inspire individuals to hold themselves accountable, and to act with integrity, honesty, and diligence.
We Inspire Tenacity
We inspire the tenacity required to make the ethical choice and to persevere through all obstacles.
These are not rocket science. They are not new concepts. They are our values – inherently true, simple, and without ambiguity. They remind us of who we are, and what is expected of us. They remind us of who we need to be in order to make Michigan Tech a university of consequence. They remind us of what it takes to do exceptionally well in an increasingly challenging world. And they remind us of the essential need for consistency in choice and will that is necessary for Michigan Tech to be of value. They are our values – the heart of Michigan Tech.
---
Thank you Glenn, for this beautiful message and for giving me permission to share it here. Make 2018 a good one everybody!
– Dan
Daniel R. Fuhrmann
Dave House Professor and Chair
Department of Electrical and Computer Engineering
Michigan Technological University
---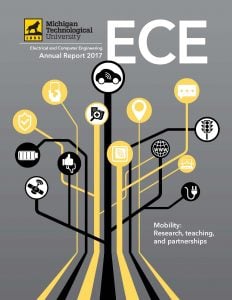 We are happy to share with you our newly released ECE Annual Report 2017. A look back at our past year highlights research activities from nine of our faculty members in the area of mobility, along with graduate students Mojtaba Bahramgiri, Derek Chopp, and Mehdi Jafari. We share in the good news received during the year in which three of our assistant professors received major early career awards: Lucia Gauchia and Zhaohui Wang received National Science Foundation CAREER awards and Jeremy Bos received the US Air Force Young Investigator Program award. We highlight two of our many outstanding undergraduate students, Brian Flanagan and Casey Strom, for accomplishments and contributions during their BS degree studies. This May we celebrated the 50th anniversary of the first female graduate of the Michigan Tech EE department, Pat Anthony. Pat was honored by the University during spring commencement and was also inducted into the ECE Academy. Once again the year included a wide variety of hands-on student projects in our Senior Design and Enterprise programs and we thank our sponsors for making it all possible! We invite you to read about these stories and more. From all of us at ECE, happy holidays and best wishes for 2018!
---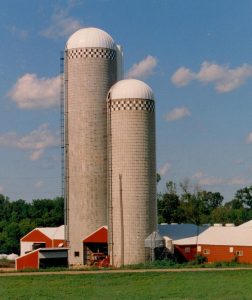 One of the widespread truisms found throughout current thought on management and organizations is that silos are really horrible and that we have to do everything we can to break them down. Just Google the term "silos" and see what I mean. The term refers to vertically integrated units within a larger organization that keep to themselves, do not communicate or play well with others, and in some cases actually compete with other similar units. They are blamed for all manner of organizational ills such as inefficiency, lack of innovation, and resistance to change. When I think about this mindset I envision Dana Carvey's impression of George H. W. Bush on Saturday Night Live years ago saying "silos…bad…baaad…"
I agree that anything that puts up barriers to communication and fosters unhealthy competition and duplication of effort is not a good thing. But, being the occasional iconoclast, I have to ask myself if maybe silos aren't getting a bad rap here.
Let's start with the physical objects that form the basis for the metaphor. Do they serve any useful purpose? Of course they do! A silo is a place to store your grain, to keep it clean and dry before it goes to market. Without silos farmers would just dump their wheat on the parking lot, in a big pile. Who wants that? They also keep the grain separated, in ways that make sense. As a general rule I don't think we want our wheat and our corn to be mixed together all the time.
Have you ever driven across Kansas (or Minnesota, or North Dakota)? What is the first thing you see in the distance when you approach a small farm town, driving on those long flat roads on the prairie? Those silos tell us that we are approaching a small piece of civilization. They are a symbol of that little town that can be seen for miles around – they give the community a sense of identity. Since it is a place where farmers come from the nearby land to do part of their business, they also provide a focal point for the community. That really doesn't sound all that bad to me.
Is there something we can learn from these simple analogies that applies to the organizational setting? I would argue yes. Some sort of organization that brings people together, working for the common good, is very useful. As human beings we seek out others with similar goals and similar ways of looking at the world, knowing that we can do more together than we can as individuals. The tribe is good for the safety and security of the individual. We don't want the results of all our hard work to be dumped out on the parking lot; we want to join it with the hard work of others in an organizational structure that supports us as individuals. Division of labor is also well-known to be an important component of economic growth and prosperity. Group formation and division of labor play out at all levels of human society, from small businesses and universities to entire nations and the world. Throughout human history the formation of smaller units with differing objectives has happened naturally – it's just the way we are.
I have come to the conclusion recently that the term "silos" is a politically charged word, much more than people might realize. It is an accusation that is easily leveled against any group of people that are trying to get their act together. How many times have you heard "you have to collaborate…you have to cooperate…you have to get along with others" – which sounds great, but it really might be just a way to keep people in their place. Think about it at the society level. The first thing that is said about groups of people trying to organize for their own common good, perhaps to accumulate a little bit of the political power that is enjoyed by others, is that they are disruptive, that they are troublemakers, that they are not good citizens. Sound familiar? And who makes these accusations? Two groups: 1) those that are already in positions of power and influence, who do not want to be challenged and do not want the competition, and 2) those who are even further down on the economic or political ladder, disorganized, jealous or envious of those who are trying to improve their lot in life. Both groups feel threatened and are driven by fear.
These are pretty strong words, I realize, but I put them out there because I want my readers to check in with themselves and ask: what are we afraid of when we see change on the horizon? Why do we react the way we do when we see groups coming together to benefit themselves, when in fact they could very well be a benefit to everyone else at the same time? Why do we insist that one group of people has to be invisible supporters, while others enjoy international prestige and recognition?
One of the lone voices I found that argues in defense of (the right kind of) silos is this piece from Information Week:
https://www.informationweek.com/it-life/why-silos-can-be-good-for-enterprises/a/d-id/1321042
I don't know much about this website, and even less about the author, but I think the article makes a nice point. The author claims that in an organizational network, describing who is connected to whom, there is a "sweet spot" somewhere between total anarchy, where everyone is connected to everyone but there are no organized groups, and total isolationism, where people work only within their units and don't talk to anyone else. The ideal situation is one in which there are organized units that do work for their own internal good, but where there is also plenty of give and take between units, based on mutual respect and a larger sense of purpose for the entire organization. It is sort of a "fences make good neighbors" argument.
Here is another nice article along the same lines. This one emphasizes the importance of ventilation in real silos, as a metaphor for communication among groups:
http://holtz.com/blog/business/organizational-silos-dont-need-busting.-they-need-ventilating/4303/
[If there is one good thing about the silo discussion, it is that it provides us with plenty of good metaphors we can relate to.]
I think there are some good lessons here for Michigan Tech, and other universities like us. I want us to stop using the term "silos" and replace it with "pillars of excellence." When people think of Michigan Tech, I want them to think about those things that we are really good at, and I want those things to be sufficiently well-organized so that they attract the right kind of attention, just like those real-life silos on the prairie. I do not want to set up unproductive conflict and competition nor shut down lines of communication, but I really do want to raise up and celebrate those things that are important to us, for all the world to see. We already have a couple of those things, and maybe it's time we built a couple more. Our stakeholders – students, parents, industry, alumni, and research sponsors – deserve nothing less.
This is my last FWF for the year. Through a quirk in the schedule this year, with Christmas and New Year's Day falling on Mondays, the university is unofficially but effectively shut down for all next week. My very best wishes to all my readers for a happy holiday season and a relaxing winter break. See you in 2018!
– Dan
Daniel R. Fuhrmann
Dave House Professor and Chair
Department of Electrical and Computer Engineering
Michigan Technological University
---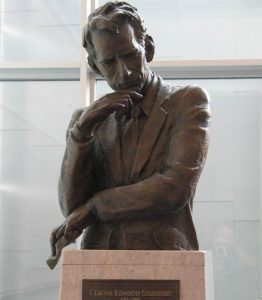 Read just about any description of research activity in the United States today, say from the National Science Foundation, and you are sure to find something about the importance of multidisciplinary or interdisciplinary work. The idea that people need to work together in teams and across traditional boundaries has become dogma in research communities, and casting one's work in an interdisciplinary light has become all but required for obtaining research funding. Of course, I am all for people working together in teams when that makes sense, and for not letting boundaries get in the way of good work and collaboration. But, the emphasis on interdisciplinary work that has become so prevalent in recent years has gotten me to wonder – what makes an academic discipline, anyway? And who gets to decide?
The reason we have academic disciplines in the first place is that the sum of all human knowledge is vast, and there is no way for any one person to know it all. We have to specialize somewhat, to decide what it is we are good at and what we are passionate about. It also helps for us to build communities of like-minded people, with common knowledge and common values, and from these values are born the branches of knowledge that we think of as academic disciplines. The organization of all universities I can think of is built around such disciplines, usually in a hierarchical manner with very broad categories at a high level (engineering, arts & sciences, business, etc.) then with increasing levels of specialization as you drill down into departments and degree programs. There is no one model for all universities, but a lot of universities in the United States, especially large comprehensive universities, look very much alike.
For the most part this system works pretty well. It facilitates communication and a common sense of purpose among groups of people, and that is usually a good thing for getting work done and discovering new things. For research communities, there is a process one goes through to become a part of the group, called getting a doctoral degree (PhD or similar); usually through qualifying examinations or other milestones one proves that he or she has what it takes to become part of "the club." When we craft degree programs, even at the undergraduate level, we often ask the question "what is it that we expect everyone in our field to know?" and then build courses and course sequences appropriately. When we go out into the world, we can label ourselves as a certain kind of person with a certain set of knowledge and skills, and this division of labor has served us well economically.
What we have to recognize, however, is that these things that we call disciplines are not necessarily predetermined in some obvious or logical way. Often there is a historical evolution of fields, and the organization may be an artifact of the way things turned out in the discovery of new knowledge. A discipline is a branch of knowledge, and the nature of the branch is a result of how the tree grew. I sometimes think of academic disciplines as "quantization bins" for knowledge, and there are a lot of different ways one could do it. Another analogy is this land mass in North America we call the continental United States. We think of that as being carved up into 48 states which seems natural to us, the proper order of things, but it is really the result of 240 years of history and politics, and if we were to start something from scratch today we might come up with something entirely different. (For an entertaining look at that last topic, read How the States Got Their Shapes, by Mark Stein.)
Sometimes the topics that get mashed together to create a discipline seem really far apart intellectually, although when viewed through an historical lens it makes all the sense in the world. The best example I know is my own field of electrical engineering. This is a relatively new discipline (when compared to disciplines with ancient roots like mathematics or physics) and it has gone through a remarkable evolution in its 150-year history. It began when smart people recognized that these forces of nature we collectively call electricity could be harnessed for the good of society. They developed tools for the generation, transmission, and distribution of electric power, and the use of that power to turn motors and light lights. Shortly thereafter, however, others like Samuel F. B. Morse and Alexander Graham Bell figured out that those same forces of nature, and that same copper wire, could be put to use transmitting information at high speed and over long distances. What happened next was very interesting: in order to take advantage of the new physical technology, we needed a new branch of knowledge to decide how best to encode information into time-varying physical variables like voltage and current, and at its core that branch of knowledge really has nothing to do with voltage and current. What resulted is what we now call communication theory. This new mathematical theory of communication was beautifully crystallized in the work of the pioneering engineer and mathematician Claude Shannon, and an even more mathematically elegant and sophisticated field of information theory was born. Information theory is the foundation for all digital communication that makes smart phones and the Internet work. (Claude Shannon is the closest thing we have in EE to an iconic hero; he is our Albert Einstein. His bronze bust is featured in this week's photo. There are at least two castings I am aware of, one on the campus of the University of Michigan in Ann Arbor, and the other in his home town of Gaylord, Michigan.) Take a look at the IEEE Transactions on Information Theory and you will find no mention of volts, amps, or watts – it's all math. Similar stories can be told about signal processing, or control theory, and of course computer science and computer engineering. The field of electrical engineering has branched off in dozens of different directions and now it encompasses a highly diverse set of topics and skills – and yet we still think of it as a discipline with a common core of knowledge.
Having what you do included in a discipline like electrical engineering brings certain advantages. There is the name recognition and the respect that goes with the title of electrical engineer. It is a job title for companies to post, to which prospective employees can respond. It is well-recognized on college campuses and known by students as a great major with lots of potential (we like to think so, anyway). The Institute of Electrical and Electronic Engineering, or IEEE, is the largest professional organization in the world. Essentially, electrical engineering as field, despite its huge technical diversity, enjoys many of the benefits that people look for when they form societal groups – tribes, gangs, whatever you want to call them. We EEs are a tribe with a shared sense of identity.
What about the situation where, in the vast domain of human knowledge, there are bits and pieces scattered about that intellectually could be considered very close, but have not been pulled together into one discipline? One advantage of working in such fields might be that one's work is always considered interdisciplinary, since it falls in the cracks between the historically established and recognized disciplines. That might be great for writing grant proposals, but I am not sure it outweighs the disadvantages of being academically homeless, of not being part of a tribe with shared values and shared culture. When one works at the boundaries, no matter how artificial those boundaries might be, one never gets to be on the inside. That sense of independence might be exhilarating at first, but after a while it might also get to be disheartening. Chris Byrnes, my former dean at Washington University in St. Louis, said it best when he said: you can't be multidisciplinary without a discipline.
Those who follow this column and/or know what I have been up to lately will not be surprised to learn that I am talking about computing. I have come to the conclusion that computing in a very broad sense is a discipline, and if it is not it should be. The reason it is not considered a discipline now is much the same reason that electrical engineering is a discipline: it is an artifact of the historical evolution of the field. When I talk about computing I have a pretty big bucket of topics, including: core computer science, software engineering, computer systems, system administration, computer networks, cybersecurity, high-performance and scientific computation, data science, statistics, analytics, information systems, medical informatics, artificial intelligence, machine learning, computer engineering, computer architecture, robotics, automation, the Internet, web-design, graphic design, multimedia systems, video games, human-computer interaction, and probably a lot more. If one looks at that laundry list I imagine that one reaction might be – wow, that certainly is a diverse set of topics. To which I respond, yes, but it is no more diverse than that set of topics that we bundle together and call electrical engineering. Or, if one wants to argue that point (and I could see it) I can certainly say that the list above is not nearly as diverse as everything we call just engineering. The main difference is, while one might find a thread of intellectual consistency throughout those topics, they all came from different areas, unlike the story of electrical engineering where one thing led to another, which led to another, and so on. Furthermore, since there are so many different origins, a variety of different groups can and do lay claim to them. The question we have to ask is, does the current way we think about what is a discipline, or what falls in the spaces between disciplines or overlaps multiple disciplines, continue to serve us in our quest for the discovery of new knowledge?
To be continued. Next week: In Defense of Silos.
Until then,
– Dan
Daniel R. Fuhrmann
Dave House Professor and Chair
Department of Electrical and Computer Engineering
Michigan Technological University
---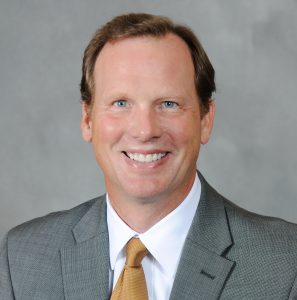 More than 360 bachelor's, master's and PhD recipients are expected to attend Midyear Commencement Saturday (Dec 16). Ceremonies will take place at 10:30 a.m. in the Wood Gym of the Student Development Complex.
James Parm, partner at Inc. CEO Project, will deliver the commencement address for Michigan Tech's Midyear. Parm graduated from Michigan Tech in 1981 with a bachelor's degree in electrical engineering and was inducted into the ECE Academy in 2012.
In his current position, Parm provides business strategy to corporate CEOs. He has a long and distinguished career leading international technology companies including Stratos, Inmarsat PLC and Shell Offshore Services Company.
Parm and his wife Jean, a 1982 Tech graduate, have established the Jim and Jean Parm Endowed Scholarship. The Parms live in Casey Key, Florida. At the commencement ceremony, Parm will receive an Honorary Doctorate of Philosophy.
---
Tim Havens (ECE/CS) and Tony Pinar (ECE) published "Measures of the Shapley Index for Learning Lower Complexity Fuzzy Integrals" in Granular Computing and "Efficient Multiple Kernel Classification Using Feature and Decision Level Fusion" in IEEE Transactions on Fuzzy Systems, December 2017.
https://doi.org/10.1007/s41066-017-0045-6
Havens presented a paper co-authored by Pinar entitled "Generating Random Fuzzy (Capacity) Measures for Data Fusion Simulations" at the IEEE Symposium Series on Computational Intelligence (IEEE SSCI 2017) in Honolulu, HI, from Nov. 27 to Dec 1, 2017.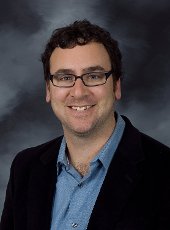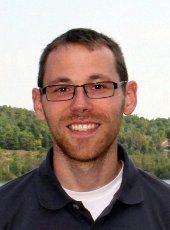 ---