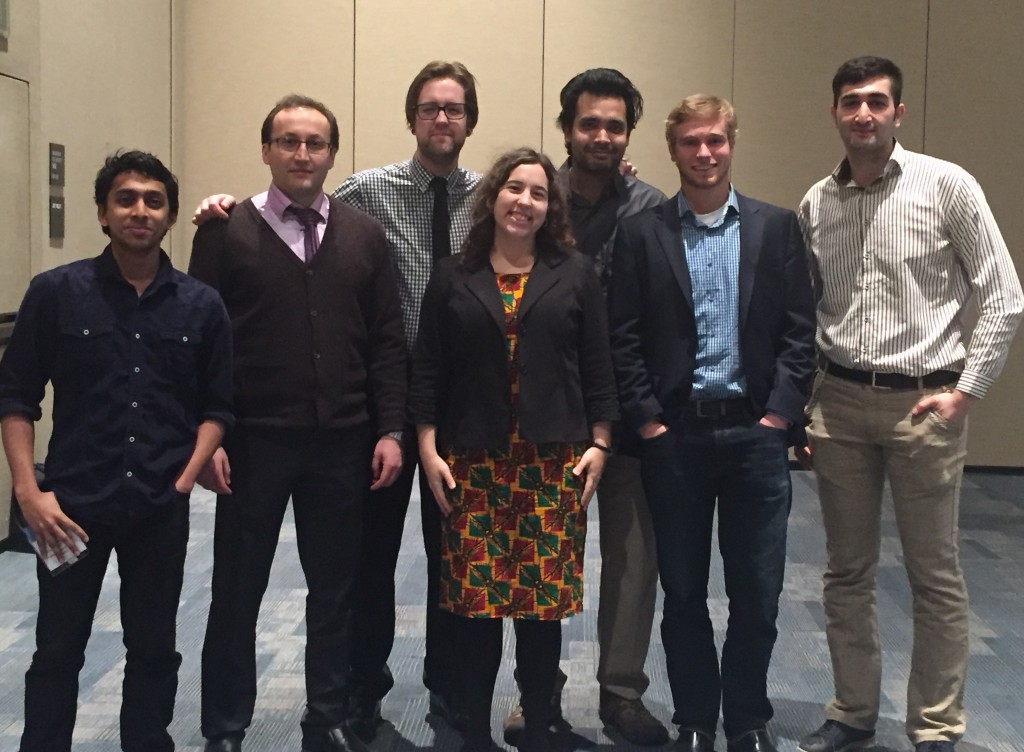 Michigan Technological University's Department of Electrical and Computer Engineering (ECE), along with Departments Biomedical Engineering (BME) and Physics were well represented at the annual SPIE Photonics West conference held in San Francisco, CA, on February 13-18, 2016.
Arash Hosseinzadeh, PhD candidate in electrical engineering, Derek Burrell, BSEE senior and SPIE/OSA MTU chapter president, and Mitch Kirby, BSBE (EE minor) presented papers and research findings on topics:  Design and optimization of polymer ring resonator modulators for analog microwave photonic applications, Comparison of self-written waveguide techniques and bulk index matching for low-loss polymer waveguide interconnects, and Effects of incident intensity on laser speckle contrast imaging.
BME Chair Sean Kirkpatrick was session chair and moderator and ECE Prof. Chris Middlebrook co-authored two papers presented. Also attended were Nima Taherkhani, MSEE candidate, and ECE alumna Liz (Cloos) Dreyer '12, currently a PhD pre-candidate in electrical engineering (optics) at the University of Michigan, Abhinav Madhavachandran, MSBE candidate, and Anindya Majumdar, PhD candidate Physics.
Student travel was partially funded by Michigan Tech's Undergraduate Student Government (USG) and Graduate Student Government (GSG).
See more information on the SPIE/OSA MTU Chapter see mtu.osahost.org.