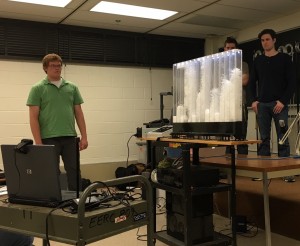 There was electricity in the air last night at the MasterpiECE Mania student design competition hosted by the Department of Electrical and Computer Engineering and IEEE. 16 teams competed in the annual event with prizes going to the top three teams. Actually four, as the judges concluded a tie for third.
This year's event was sponsored by Whirlpool Corporation with a generous gift of $2,000 to help support cash prizes, partial project supply reimbursal, event promotion, and a pasta buffet prior to the evening's demonstrations to thank all the team members for their time and effort in their creative innovations.
Here are the results:
1st place, $500: Physical Spectrum Analyzer by Matthew Linenfelser, Jerry Sommerfeld, Alex Herbst, and Matt Miller
2nd place, $300: Automatic Resistor Sorter by Peter Gorecki
3rd place, $200 (ea): Midi Orchestra by Joe Halford; Internet Enabled LED Controller by Alex Simon and Pierce Jensen
Honorable mention: Arduino Uno Controlled Quadcopter by Cameron Burke;  Rc Aircraft by Josh Gobrogge
A few details regarding the winning project: A spectrum analyzer is a device for analyzing a system of oscillations, especially sound, into its separate components. The "Winter Spectrum" uses small polystyrene particles and powerful fans to visualize an audio signal. Using a microprocessor (TI Tiva C Launchpad) the team was able to run a Fast Fourier Transform (FFT) algorithm on an incoming line level audio signal. This separated the audio frequencies into "bins" which integer value represents the intensity of the certain frequency. Pulse width modulated (PWM) signals are fed to the fans under the acrylic enclosure. The beads then rise to the level that best represents the FFT frequency bin average.
MasterpiECE Mania began in 2009 with the goal of inciting creativity throughout the Michigan Tech community and fostering an appreciation for the 'DIY' aspect of modern electronics. Although the yearly MasterpiECE Mania competition is hosted by the Michigan Tech ECE department, it is open to all Michigan Tech Students regardless of major. This intra-disciplinary hack-a-thon competition challenges student to develop and build an electrical-based project that displays their skill and ingenuity.