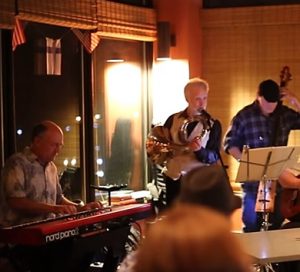 Just for fun, I thought I would write about music this week.
As most of my friends and acquaintances know, music has always been a big part of my life. I started classical piano lessons at age 6, learned about jazz in high school, and have been a semi-professional musician on the side all my adult life. I play keyboards in a variety of styles – jazz, popular, salsa, blues – and have a great time doing it. Oddly enough, I have found as many opportunities to play publicly in the tiny little communities of Houghton and Hancock as I have anywhere I have lived!
A lot of people I meet say something like, "wow, that's so unusual, you can be both an engineer and a musician!" Actually, it's not that unusual at all. I know a lot of engineers, especially electrical engineers, who have music as a hobby. On the back cover of the latest edition of the The Circuit, our alumni magazine, there is a photo taken at the annual Christmas party of seven ECE faculty members who are also musicians (plus one student, a drummer who was there at the time and who just graduated and took a job with Black & Veatch.) I think there is a natural connection between the two. Electrical engineers have a natural affinity for concepts like signals, systems, frequency, harmonic analysis, etc. and so we "get" a lot of the physics of sound and the organization of music. The craft of music is rather abstract, and a bit mathematical, and we engineers like that stuff. In academics, we are all performance artists in the classroom anyway, so getting over our stage fright and hamming it up come naturally.
It is reasonable to ask, did the engineering influence the music or was it the other way around? In my case, I did well in both piano lessons and in math as a young boy, and as I got into electrical engineering in college, I realized that a lot of concepts I was seeing in communication theory and related courses were a piece of cake, because of that musical training.  So I think in my case the music really did have an influence on the path I chose professionally, and it is no accident that I went into signal processing as my technical area of expertise. On the other hand, we have the example of Tim Schulz, our former chair and dean who, after coming back into the ECE Department as a regular faculty member, decided to take up guitar as the first musical experience of his life. He has taken to it like a fish to water, and is loving every minute. So, I suppose it goes both ways.
I am writing about this not just to toot my own horn (no pun intended), but rather to make a point about the importance of performing arts in K-12 education. I love art and music so I am perfectly happy with the notion of ars gratia artis, that is, arts education is valuable in and of itself. However, even if one were to push singlemindedly for STEM education because of its importance to our national economic development, I would still claim that arts education cannot be overlooked.  There is something about the training that goes along with learning music that enhances the mind and opens it up to math and science.  Students who practice their instruments 30 minutes or an hour a day learn the discipline they need to master other academic fields. By participating in band and orchestra they learn teamwork and cooperation, and in a beautiful way they also learn the value of diversity because of the way all the different instruments contribute to the whole. Perhaps most importantly, performing arts gives young people the opportunity to learn how to do something specific and concrete, and to demonstrate that they have mastered their skills in a public performance. The self-image and the confidence that goes along with that is invaluable. (The same argument can be applied to athletics, and I can see that too.) Engineering students don't get a chance to do that until much later. So, I will always stand behind music and arts education as an important piece of STEM education.
Have a wonderful 4th of July weekend everyone! Get out there and support your local musicians!
– Dan
Daniel R. Fuhrmann
Dave House Professor and Chair
Department of Electrical and Computer Engineering
Michigan Technological University