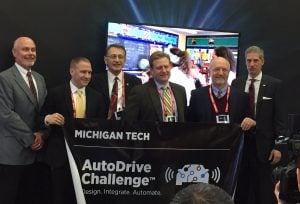 It has definitely not been a quiet week in Houghton. Some pretty exciting news in the ECE Department was made public, and I will share that with you shortly below. There was also some bittersweet news for the entire university, and I think it best if I lead with that. This past Wednesday, two days ago, our university president Glenn Mroz announced in an e-mail to the campus community that he was stepping down as president and returning to the ranks of the faculty, effective June 30, 2018. That date is over a year away, so there is plenty of time for an orderly transition in the administration, and also plenty of time for reflections and best wishes which I am certain will be ample as the date approaches. President Mroz has worked tirelessly on behalf of Michigan Tech and is much loved by the university community. The institution has made some important strides forward under his leadership. I will leave it at that (for now), and just add that we have an interesting year ahead of us.
Now on to the good news. On Wednesday it was announced that Michigan Tech is one of 8 universities in North America selected to participate in the GM/SAE AutoDrive Challenge. This is a collegiate competition, jointly sponsored by General Motors (GM) and the Society of Automotive Engineers (SAE), with the goal of having students design, build, and test a fully autonomous vehicle. The students will take an existing vehicle – a Chevy Bolt, donated as part of GM's sponsorship – and outfit it with sensors, processing, and control strategies to make it autonomous, over a period of three years. It is an ambitious project, with an ambitious goal, and I couldn't be happier that we will be a part of it.
There was a competition just to get into the competition. The Michigan Tech team that prepared the winning proposal was led by Prof. Jeremy Bos of the ECE Department, who worked closely with Prof. Darrell Robinette of the Department of Mechanical Engineering-Engineering Mechanics. There was also close cooperation with Rick Berkey of the Pavlis Honors College, who is responsible for much of the oversight of the Michigan Tech's signature Enterprise Program. The reason behind the Pavlis participation is that the competition activity will take place in the Robotic Systems Enterprise, which is hosted in the ECE Department but which includes membership from other parts of campus, most notably ME-EM and Computer Science. Next year Prof. Bos will take over as faculty advisor for the Robotic Systems Enterprise, and AutoDrive will comprise a major portion of his teaching assignment.
The announcement was made on Wednesday with much fanfare at the SAE World Congress, a large technical conference and exposition for automotive engineers held at CoBo Hall in downtown Detroit. There was a big lunch for all the winning teams and then a ceremony, with speeches by representatives of GM and SAE and announcements of the winning teams with plenty of photo opportunities, for ourselves and for the press. It was a wonderful moment. SAE was extraordinarily generous with us and the other teams, paying for all the travel expenses to attend the conference and particularly the announcement event. There were four us on hand – Jeremy, Darrell, ME-EM chair Bill Predebon, and me.
We had a chance to meet the other teams; they are:
Kettering University
Michigan State University
University of Toronto
University of Waterloo
North Carolina A&T State University
Texas A&M University
Virginia Tech
I have a lot of respect for these other institutions and I know the competition will be stiff. I welcome the opportunity to see how Michigan Tech stacks up.
I am excited about this turn of events for several reasons. First off, I have been advocating for the past year or so for the ECE Department to have a larger footprint in the areas of the robotics, control, and automation. A lot has been coming together in this regard, e.g. the growth of the Robotic Systems Enterprise, some changes to the curriculum, and development of our research programs, but this may very well become our most visible activity in the area. I have to add, this is not just about ECE: it will be a team effort involving ECE, ME-EM, and CS. This is a great opportunity for these three units to show what can accomplished when we break down the silos a little bit and work toward a common goal. In doing this we will meet another objective of mine, which is to ensure that our work is beneficial to the state of Michigan and the larger Great Lakes region. I see a renaissance in the state that is driven in part by the development of new technologies surrounding the "mobility" area, which leverages the considerable engineering talent that already exists here. Engineers who can cross disciplinary boundaries among ME, EE, and CS are needed to keep this movement vital. I want Michigan Tech to be known as an institution that is doing its part for the economic growth and revitalization of the region, through both our research and through educational programs that meet the state's workforce needs.
I also believe a program like the GM/SAE AutoDrive Challenge will do a lot to stir the imagination of new and prospective students at Michigan Tech. A lot of high school students that come to campus have experience in FIRST Robotics, and when they visit us the first thing they want to know is, what do we have going in robotics? Do we ever have an answer now: how would you like to be part of a team building a fully autonomous vehicle? The aspiring engineers in FIRST Robotics – and just yesterday I met a very capable and enthusiastic team at the Macomb Academy of Arts and Sciences, in Armada, Michigan – have the passion and the drive to see this project through to a successful conclusion as they mature as college students. I predict we are going to see another jump in enrollment in ECE and ME-EM as word of this competition gets around.
We see a lot in the popular press these days about autonomous vehicles and how quickly the technology is developing. I think this is the "moon shot" for the current generation. We may not know how we are going to get there, but it is pretty clear that we are going to get there one way or another. In analogy with the original moon shot in the 1960s and 1970s, this effort may be more valuable for new spin-off technologies that result than it is for the stated goal. If you think about it, what did we really accomplish in 1969? We put some men on the moon, they drove around in buggies, and collected some rocks – big deal. What was really launched in the NASA lunar missions was an entire electronics and computing industry, with far-reaching consequences leading right to present day and far beyond. The same may happen with autonomous vehicles, as entirely new paradigms for sensing, processing, and artificial intelligence give rise to new life-altering technologies that we cannot even imagine today.
When President Mroz issued his open letter to the campus community on Wednesday, he included this critically important statement: "I have no intention of allowing Michigan Tech to lose its forward momentum." The AutoDrive Challenge is a perfect example of that forward momentum. There may be transitions and uncertainty in the university's future, just as in the landscape of mobility technologies, but that is no reason to look to the future with anything less than optimism and a sense of wonder about the possible. I wish our AutoDrive team all the best of luck, and will do everything I can to support them. Game on!
– Dan
Daniel R. Fuhrmann
Dave House Professor and Chair
Department of Electrical and Computer Engineering
Michigan Technological University