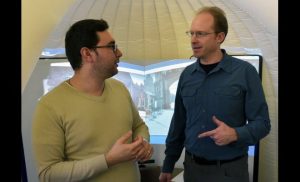 Joshua Pearce (MSE/ECE) gave an invited talk for the University of Lorraine entitled "Will you 3D print your next lab? : Leveraging Improvements in Distributed Manufacturing for Open Source Scientific Hardware" at the Lorraine Fab Living Lab in Nancy, France.
The visit was covered by the regional newspaper L'Est Republicain(circulation >123,000).
In Print
Joshua Pearce (MSE/ECE) authored the chapter "Open-source 3D Printing" in "Managing Humanitarian Innovation: The cutting edge of aid." Editors: Eric James and Abigail Taylor, 2018, Practical Action Publishing.
eISBN: 978-178044-953-1 | ISBN: 978-185339-953-4 doi:https://doi.org/10.3362/9781780449531.021
Joshua Pearce (MSE/ECE) authored "Expanding the Consumer Bill of Rights for material ingredients," in Materials Today.
In the News
Joshua Pearce (MSE/ECE), John Gershenson (MEEM), and alumni Tobias J. Mahan and Benjamin L. Savonen are mentioned in the article "Researchers Develop the Kijenzi 3D Printer to Respond to Humanitarian Crises," in 3DPrint.com.
Research by Joshua Pearce (MSE/ECE), was featured in the story "Solar Microgrids for National Security: Study Finds 17 GW Could Fortify US Military Bases," originally posted in May, 2017. The story was referenced recently in Microgrid Knowledge.
On the Road
Joshua Pearce (MSE/ECE) gave an invited talk, "Production for the People: How open source hardware design and 3D printing enable real distributed manufacturing," at the 20th Finnish Rapid Prototyping Association Conference and Nordic3DExpo last Thursday (April 19) in Espoo, Finland.