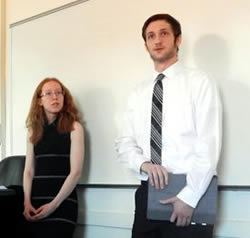 HOUGHTON — Autonomous vehicles will spell major changes for Americans, including those living in rural areas.
Using Houghton as an area for a case study, a team of Michigan Technological University students set out to investigate possible impacts within rural areas.
The class was tasked with determining environmental, social and economic impacts of Level 4 autonomous vehicles, part of a competition known as the AutoDrive Challenge. Level 4 refers to vehicles that are self-diving but unable to deal with every scenario.
Once the results came in, the team was surprised by the level of neutral responses, with 20-30 percent answering questions as neutral, said Cameron Burke, an electrical and computer engineering student.
Unexpected topics, such as land use and parking situations, were also raised by participants. The team determined there would need to be significant changes to infrastructure, Burke said.
"We found that for autonomous vehicles to be even desirable in a community like this, there would have to be a lot of infrastructure changes," he said.
Read more at the Mining Gazette, by Kali Katerberg.
Related:
Take Me Home, Country Roads: The Future of Autonomous and Electric Vehicles in Rural Areas