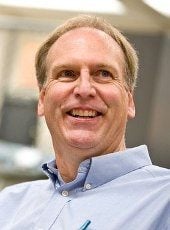 Online Engineering Programs recognizes Professor Bruce A. Mork as one of the most highly skilled educators in the area of power systems engineering. Mork teaches electrical and computer engineering at Michigan Tech, where he was named the Dennis Wiitanen Professor of Electric Power Systems. Currently, his areas of interest include smart grids, power system protection, computer simulation, transients in electrical power systems, nonlinear dynamics and chaos theory, magnetic materials and saturation of transformers, power quality, photovoltaics, and renewable energy, including wind energy and solar energy.
Read more at Online Engineering Programs.
Michigan Tech offers an online Master's in Electrical Engineering with a focus on power systems.