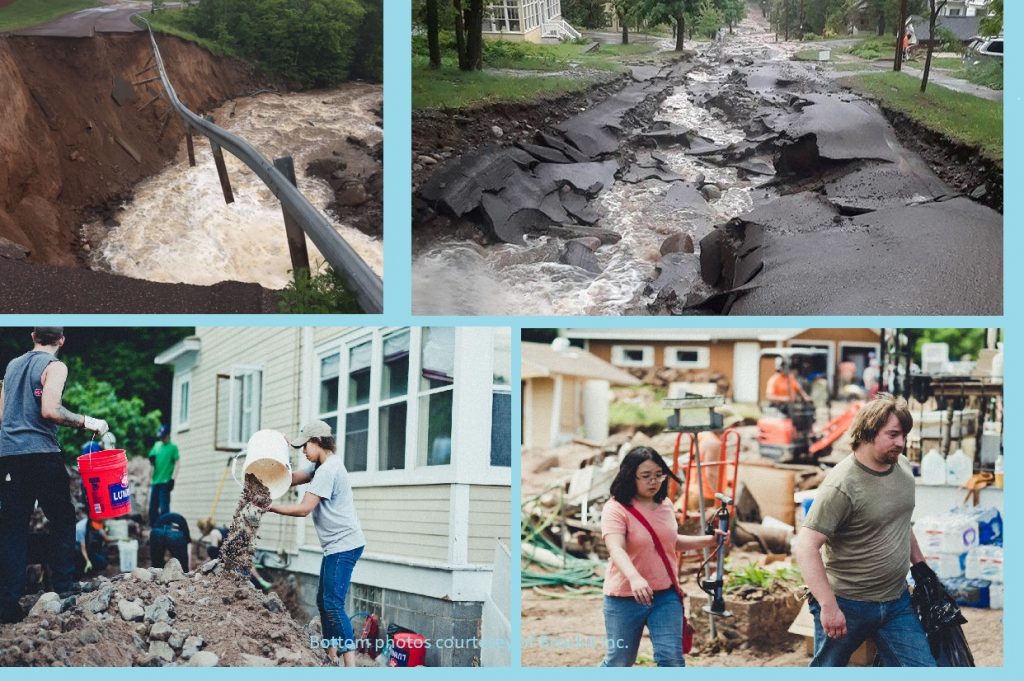 Saturday night and early Sunday morning, June 16 and 17, Houghton County residents were kept awake by booming thunderstorms and torrential rains, and we arose Sunday morning to one of the worst natural disasters ever to hit this area. Major flash floods had washed out roads, destroyed homes, and left piles of mud and rocks in streets, driveways, and front yards. Agate Street in Houghton was completely ripped apart; the neighborhood at the base of Ripley Falls had become a boulder field. It was like nothing any of us had ever seen.
Weather reports said that some 4 to 8 inches of rain had fallen overnight, depending on the exact area. 6.72 inches of rain was reported in Hancock. All that water had to go somewhere, and it came rushing down the hills that line both sides of the Portage Canal, turning little creeks and drainages that I never even knew existed into unstoppable whitewater that ate up everything in its path.
Compared to many of the surroundings neighborhoods, the Michigan Tech campus got off pretty easy. In particular, the Electrical Energy Resources Center (EERC), the home building for the ECE Department, came out unscathed, for which I am grateful. However, the Administration Building, which sits at the bottom of Clark Street and right in the line of fire for one of the debris flows on the Houghton side, took a pretty bad hit. The campus was closed on Sunday and Monday, with the power turned off for a good portion of that time. The Admin building is still out of commission.
The emergency response from the university was pretty good. Everyone who was signed up for Safety First Alerts received regular notifications by phone and text, apprising us of the status of the university and the surrounding area. The predominant message was "do not come to campus" and for the most part, we didn't.
I am not aware of any major damage sustained by ECE faculty, staff, and students, other than some flooded basements which are still no fun and will end up being a significant uninsured expense. I personally had no problems at my home in "Shopko Heights"; even though I live on the side of a hill, there are no ravines to channel the water. Others were not so lucky. Some of my Michigan Tech colleagues outside the ECE Department suffered significant property damage. The Portage Canal has turned completely brown from all the mud, and as of two days ago we are advised to avoid all water contact due to high levels of E. coli and fecal coliform bacteria.
There was one fatality from the storm, a truly tragic story out of Stanton Township which has saddened the entire community.
This sort of thing just doesn't happen here, or so we thought. We are famous for our winters and lots of snow, and we have fun playing that up and making it sound apocalyptic, but the truth is that snow is pretty benign stuff and we know how to handle it. Our beautiful summers, something of a well-kept secret, are what many see as a reward for having made it through the winter. We are not supposed to have violent weather in the summertime, which makes last weekend's storm even more of a shock.
Once we did get over the initial shock, the community began to pull together and the rebuilding effort began. We were visited by the Governor and our Senators and Representatives, and efforts are underway to secure federal disaster relief. Not waiting for that, though, neighbors are out helping neighbors clean up the mud and debris. Food and supplies are being donated in large quantities and warehoused in the Dee Stadium. Trucks and large earth-moving machinery can be seen hard at work all over. The major highways in and out of the area, some of which had major washouts and sinkholes, are already back open. Michigan Tech got into the act by opening up the locker rooms in the Student Development Complex (SDC) for anyone who needs a shower, no questions asked. President Mroz praised the "grit, determination, and heart" of everyone in the Houghton-Hancock area for pitching in and doing the right thing. I expected nothing less. While none of us ever want to see something like this happen it feels good to know that we have each others' backs when times are tough.
Huskies outside the Copper Country can do their part too. I encourage you to visit the June 20 edition of Tech Today, which has a short article titled "How You Can Help". Information is also available on the Michigan Tech news website.
In the meantime, almost ironically, the weather since Monday has been spectacularly beautiful, sunny and in the 70s. It may not be the way we planned, but perhaps we will enjoy the Keweenaw summer after all, as we work side by side to put our little town back together.
– Dan
[Bottom two photos courtesy of Adam Johnson, Brockit Inc.]
Daniel R. Fuhrmann, Dave House Professor and Chair
Department of Electrical and Computer Engineering
Michigan Technological University