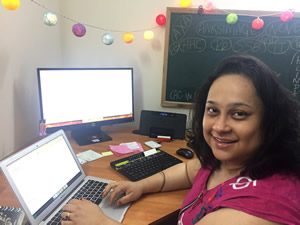 Michigan Tech Alumna Ankitaa Gohain Dalmia was among the women featured in the story "Women That Make a Difference," in Recycling Times. She is the founder of the digital marketing firm Anksimage in Rudrapur, India.
Women That Make a Difference
Long gone are the days when many believed that women belonged in the private sphere of family while men belonged in the public sphere of business.
With the advances of society, more and more educated women join the workforce, demonstrating they can make a difference not only in their lives but also to the industry they are serving.
Great Passion
Ankitaa Gohain Dalmia is a passionate digital marketing specialist with more than ten years' experience. She writes regularly for Recycling Times magazine, helping the printing consumables industry readers enhance digital marketing skills with her knowledge and expertise.
When she graduated as a computer engineer from Michigan Technological University in 2004, she had no idea she would end up in marketing the way she is today.
Starting this year, Aniktaa has been raising her voice in online discussions pertaining to digital marketing and content marketing.