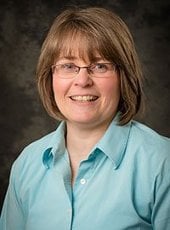 Mary Fraley, Engineering Fundamentals senior lecturer, Mary Raber, Pavlis Honors College assistant dean and Magann Dykema, University Innovation Fellow presented at the 2018 VentureWell OPEN Conference that took place in Austin, Texas, March 22-24.
OPEN gathers together representatives from across the innovation and entrepreneurship spectrum to share stories, start new collaborations, and learn emerging best practices in the rapidly evolving field of technology entrepreneurship education.
Fraley, Raber and Dykema presented on a modified first-year engineering curriculum that was piloted at Tech last fall. Based on the successful outcomes of the initial pilot, Michigan Tech was awarded a VentureWell Faculty Grant for the proposal "Building a Curriculum that Fosters an Innovation & Entrepreneurial (I&E) Mindset for our First-year Students."
The Innovation Center for Entrepreneurship, Engineering Fundamentals, and the School of Business and Economics (SBE) have teamed up to incorporate design thinking methodology into a combined first-year engineering and business course.
More about how the new grant will be used to expand upon the fall pilot can be found here.
By Pavlis Honors College.