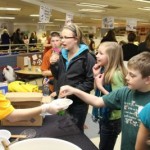 The 14th Annual Western Upper Peninsula Science Fair AND Science & Engineering Festival was held Tuesday, March 27, 2012  at the Memorial Union Building on Michigan Tech's campus. Three hundred fifty students in grades 4-8 have entered projects into the Western UP Science Fair.
The Science & Engineering Festival showcased more than two dozen fun, hands-on activities conducted by more than one hundred Michigan Tech and Finlandia University students and local organizations, in the MUB Commons area.  The Festival is open to ALL elementary students, accompanied by an adult.
See  the results of the  judging of projects at the Western U.P. Center Science Fair Website
Some of the festival activities include:
Bubble-making
Squeeze an Egg
Design A Launcher
Build a Water Tower
Geodesic Dome Challenge
Glow Germ
Healthy or NOT?
Hybrid Vehicle Mobile Lab!
Remotely-Operated Underwater Vehicles
Students from sixteen schools in Houghton, Baraga, Ontonagon and Gogebic Counties participated: CJ Sullivan Elementary, P. Latendresse Elementary, Chassell Elementary, CLK Elementary, E.B. Holman School, Houghton Elementary, Barkell Elementary, Lake Linden-Hubbell Elementary, South Range Elementary, Dollar Bay-Tamarack City Schools, Arvon Township School, Houghton Middle School, Lake Linden-Hubbell Middle School, LL Wright Middle School, and Watersmeet School.  Students submit projects on experiments they conducted using the scientific method. They are judged on the scientific content of their written report, a display and an oral interview with two judges.
Nearly 200 Michigan Tech faculty, staff and students, Finlandia students, area teachers, and community members assist with this exciting event.
The Western UP Science Fair and the Science & Engineering Festival is sponsored by the Western Upper Peninsula Center for Science, Mathematics and Environmental Education, Michigan Tech Chapter of American Society for Engineering Education, Michigan Technological University, and the Carnegie Museum.
For more information about the Western UP Science Fair, please visit Western U.P. Center. Results and pictures from this year's Science Fair will be posted on this website.
The public can view the Award-winning projects from April 10- May 11 at the Carnegie Museum in Houghton. A grand opening and Family Science & Engineering Evening are planned for 6:30-8 pm, Tuesday, April 10, at the Carnegie Museum. Open to all.