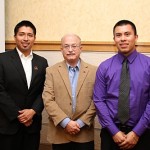 "Tribute to César Chávez: Living The Legacy Banquet," was held Monday, March 26, in the Memorial Union Ballroom, featured Marc Grossman, a longtime Chávez associate, and Uziel Mendez, an Hispanic student at Tech.
Grossman was César Chávez's press secretary, speechwriter and personal aide and directed international media coverage of Chávez's 1993 funeral in Delano, Calif. He still serves as a spokesman for the United Farm Workers of America and is communications director for the Cesar Chavez Foundation.
Mendez, a Tech undergraduate pursuing a bachelor's degree in biomedical engineering, will speak about his own experience as a migrant worker. He is president of the Society of Hispanic Professional Engineers Chapter at Michigan Tech
The Memorial Union Ballroom menu featured nopales salad, stuffed poblano chile (chicken and vegetarian), traditional "flan" and "tres leches" cake.
The event is sponsored by the Center for Diversity and Inclusion and its Hispanic Heritage Committee, Housing and Residential Life, Student Affairs, the President's Office, Institutional Diversity, Mechanical Engineering-Engineering Mechanics, the Alumni Association, Student Activities and the Parents Fund of the Michigan Tech Fund.
César Chávez Banquet at Michigan Tech Page of pictures and video
For more information, contact Madeline Mercado Voelker, assistant director, Center for Diversity and Inclusion, at 487-2920 or at mmercado@mtu.edu .