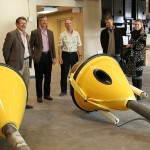 Officials from the Aarhus School of Marine & Technical Engineering recently had meetings at Michigan Tech concerning the international student exchange program. Anna Kathrine Jørgensen, international coordinator, and Leif Tranborg, Provost, Engineer, Master in adult education, were in Houghton for several days of meetings and tours.
They met with International Programs and Services, Thy Yang, director, and faculty from the School of Technology, College of Engineering, School of Business and Economics to promote the international exchange programs. These photos show them touring the Great Lakes Research Center with Michael Abbott, Director, Great Lakes Research Center Operations, Dr. David Shonnard, Chemical Engineering and Sustainable Futures Institute, and Dr. Leonard Bohmann, Associate Dean of Engineering, with Darnishia Slade, assistant director, International Programs and Services.
The organizational structure of the school is based in the Danish Maritime Authority under the Danish Ministry of Business and Industry. The school was founded in 1896 and from the year 1968, the school has been a self-governing institution with its own board of directors authorized to educate Marine and Technical Engineers.
A Bachelor of Technology Management and Marine Engineering is a Danish polytechnic Profession Bachelor education. The main subjects of the education are Mechanical Engineering, Electrical Engineering, Automation and Management.
AAMS Website: http://www.aams.dk/da-DK/English.aspx