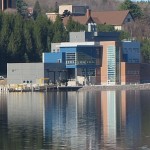 Updated from From Tech Today by Marcia Goodrich, magazine editor
The Great Lakes Research Center dedication ceremony for Michigan Technological University's newest building was on Thursday, Aug. 2. The speakers were Michigan Tech President Glenn Mroz; Stephen Hicks, chair of the Board of Control; and Guy Meadows, director of Great Lakes initiatives at the GLRC.
The three-story, 50,000-square-foot center has three distinct areas: a boathouse for the University's three research vessels and environmental monitoring buoy network, a complex of research laboratories, and a public area that includes conference facilities and space for K-12 education.
Read more about it from news media stories and view Video News Clips