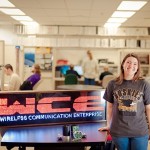 Michigan Tech is among 29 colleges and universities showcased in a new National Academy of Engineering (NAE) report called Infusing Real World Experiences into Engineering Education. Michigan Tech's Enterprise program caught the eye of the NAE.
The report highlighted programs considered "best practices" as models for schools seeking to incorporate hands-on, multidisciplinary problem solving into their curriculum. The publication was sponsored by Advanced Micro Devices, Inc. (AMD) in support of the AMD NextGen Engineer initiative.
"These programs are strategically preparing students to become the engineers who will tackle the technical and social complexities that lie ahead in the 21st century," said Charles M. Vest, NAE president.
The best practices described in the report include incorporating multidisciplinary team-based projects into curricula to help students develop skills in decision-making, leadership, written and oral communication, organization/time management, cultural awareness and problem-solving. The report identifies frequent impediments to infusing real-world experiences into engineering programs and suggests ways to overcome these barriers to program implementation.
The best practice case studies in the NAE report compare anticipated versus actual program outcomes to demonstrate how each institution is improving the level of preparedness of its engineering students.
See NAE article
and <a href=" Infusing Real World Experiences into Engineering Education