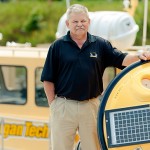 The Great Lakes represent almost 90 percent of the US surface freshwater, with almost one-half of that in Lake Superior alone.
Never before has the Great Lakes basin faced the magnitude of issues and stresses currently in operation—challenges that cut across all branches of science and engineering, from biology to physics, and from social science to management and policy.
Enter Professor Guy Meadows, who recently joined Michigan Tech after 35 years at the University of Michigan Ann Arbor. As Director of Great Lakes Initiatives at Michigan Tech's new Great Lakes Research Center, Meadows' primary goal is to blend scientific understanding and technological advancements into environmentally sound engineering solutions for the Great Lakes. "Tackling these difficult and multidisciplinary issues requires an organization that brings together dedicated researchers, from all areas, to focus their collective energies and expertise on problems never before faced," says Meadows. "The opportunity is now before us; it is up to us to seize the moment.
"Freshwater is perhaps our most valuable natural resource," adds Meadows. "Research directed at understanding and preserving all aspects of this enormous natural resource is critical to the well being of our nation, our neighbors, and the world. We've needed a state-of-the-art, integrated facility where researchers, students, technicians, policy makers and the general public can come together to not only share ideas, but to share laboratory space, advanced equipment and a common goal. The Great Lakes Research Center is that 21st century space."
Meadows' own research involves the development of a wide range of environmental monitoring platforms, which operate in the Great Lakes and coastal ocean. These range from a network of automated wind and wave measurement buoys distributed through the upper Great Lakes to underwater vehicles for bottom mapping. His team has even developed a fully autonomous
ocean-monitoring buoy that flies as a robotic Pelican.
The next step, in collaboration with colleagues at Michigan Tech, is to accurately take the internal temperature of Lake Superior by propagating sound waves the entire length of the basin and very accurately measuring the travel time. "We will do this at many different frequencies, causing the sound waves to take many different paths through the lake, from surface to bottom. This will answer the question: 'Is Lake Superior warming up? And if so, by how much?'"
Michigan Tech's Great Lakes Research Center provides the ideal location to further develop the next generation of advanced sensors and numerical models for the marine environment. "The University's new super computer, which will be housed in the GRLC, make this possible," says Meadows. The Center's location on the deep Keweenaw Waterway will allow the team to begin to monitor the Lakes though the harsh northern winters. "Presently, we must remove our network of surface buoys before ice develops. This leaves us blind to understanding Lake dynamics during the worst (and most interesting) part of the year," he adds. "We are now able to develop a network of underwater buoys each with a node cabled back to the GLRC—an evolving effort with partner universities on the Canadian side."
Meadows' distinguished career of teaching, research and service includes numerous awards for outstanding teaching, which reaches beyond the University setting to less formal environments, including five nationally-televised documentaries for the History Channel and the Discovery Channel.
For more information on the new Great Lakes Research Center at Michigan Tech, visit www.greatlakes.mtu.edu.