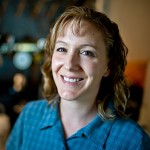 By Dennis Walikainen
May 24, 2012—
Adrienne Minerick, an associate professor of chemical engineering, is the recipient of Michigan Technological University's 2012 Fredrick D. Williams Instructional Innovation Award. The award recognizes faculty who have developed or adapted new and innovative approaches to instruction.
A longtime member of the chemistry faculty, Williams is remembered by his colleagues and students for his innovative and creative instruction in the large-enrollment, first-year chemistry sections. He was also director Michigan Tech Center for Teaching Excellence.
Nominators cited Minerick's numerous innovations in just two years of teaching at Michigan Tech. One example is a combined undergraduate and graduate class, with differing expectations based on the students' grade level.
According to one nominator, such forward thinking has allowed her "to re-energize our core graduate program courses, widely incorporate desktop experiment modules (DEMos) from her NSF CAREER Award and contribute to biosafety in our labs and instruction."
In one example, Minerick challenges her chemical engineering students to think beyond the traditional model of scaling up chemical processes to the manufacturing plant level. She invites students to consider scaling down operations to lab-on-chip devices that can contain whole chemical processes and analysis within one square inch.
Minerick's efforts have been acknowledged off campus too. She has used Jell-O to make castings of microfluidic channels for diffusion and transport observation, a model that makes science more fun for K-12 students, and her innovative methods have appeared in American Society for Engineering Education proceedings articles and in the Journal of Chemical Engineering Education.
She has also received the Ray W. Fahien Award, chemical engineering's most prestigious education award.
Minerick's primary area of research is electrokinetics with a focus on medical microdevices, blood cell dynamics and point-of-care diagnostics.
Minerick received master's and PhD degrees in chemical and biomolecular engineering from the University of Notre Dame in 2003 and a bachelor's degree in chemical engineering from Michigan Tech in 1998.