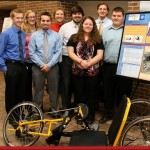 Michigan Tech's Mechanical Engineering Hand Crank Cycle Senior Design Team was featured in news stories and videos from GM. Links to the News articles and video are below as well as links to previous articles.
A video by Vehicle Planet features GM Chairman and mentions the Michigan Tech student team
Chevy, Michigan Tech Reveal Cycle for Wounded Veterans
GM Video of Hand Crank Cycle Team: Chevrolet and students from Michigan Technological University reveal a new hand cycle designed to make it easier for wounded veterans to compete in racing events, including marathons.
Michigan Tech ME-EM Video of Hand Crank Cycle Team
Autoweek Magazine News Video mentions Michigan Tech
Here is a Chevrolet ad about the Achillles Cycle: What Moves Me | Army vs. Navy Game | Chevrolet
Previous Articles:
Daily Mining Gazette News Story: Huskies helping heroes; Hand-crank cycle developed to aid veterans
Michigan Tech article: Student-designed Hand-cranked Cycles Unveiled at Army-Navy Game
Michigan Tech article: Engineering Better Bikes for Wounded Vets
Photos Sharing: Michigan Tech student engineers and the Achilles Freedom Team of Wounded Veterans at the 2012 Detroit Free Press/Talmer Bank Marathon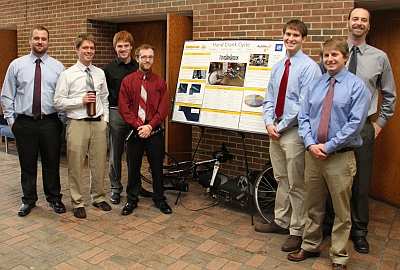 Hand-Crank Cycle Team 1: Team Members: Kellene Perry, Nicholas Ragsdel, Steve Schaenzer, Chad Zunich; Advisor: Michele Miller; Sponsor: General Motors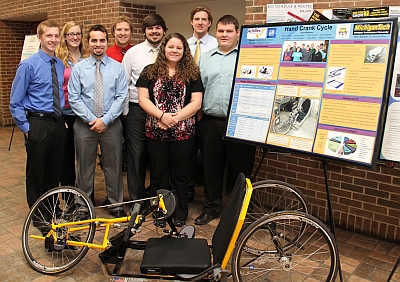 Hand-Crank Cycle Team 2: Team Members: Bethany Aebli, Gregory DeVillers, Jacqueline Kukulski, Elizabeth Reinke, Alicia Walby; Advisor: Paul van Susante; Sponsor: General Motors