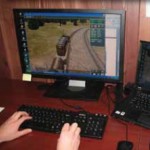 $13,000 in designated Railroad Scholarships are available for Michigan Tech undergraduate or graduate students in any discipline with an interest in railroad transportation. Interested students are encouraged to apply for AREMA, CN and Union Pacific Railroad scholarships.
RTP-sponsor CN has four $1,000 scholarships available for undergraduate students, while sponsor Union Pacific offers three scholarships in the amount of $2,000 each, for both undergraduate and graduate students with interests in rail transportation.
The American Railway Engineering and Maintenance-of-Way Association (AREMA) offers three Michigan Tech Alumni scholarships with a preference towards Railroad Engineering and Activities Club (REAC) members. AREMA offers 30+ additional scholarships provided for by partnering organizations. All applications submitted to AREMA are also eligible for $40,000 of other AREMA scholarships.
Internal CN and Union Pacific applications are due by March 8 to Bill Sproule. Only one AREMA application is required for all scholarships and is due electronically or via post by March 8. Applications and additional information is available here