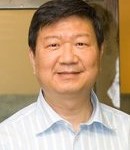 by Marcia Goodrich, Michigan Tech magazine editor
Materials science and engineering professor Jiann-Yang "Jim" Hwang and 2012 PhD graduate Zhiwei Peng have been chosen to receive Michigan Technological University's 2013 Bhakta Rath Research Award for their studies on the use of microwaves in steelmaking.
The award, endowed by Michigan Tech alumnus Bhakta Rath and his wife, Shushama, recognizes a doctoral student at Michigan Tech and his/her faculty advisor for "exceptional research of particular value that anticipates the future needs of the nation while supporting advances in emerging technology." Hwang and Peng, now a research assistant professor, will share a $2,000 prize.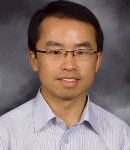 Peng and Hwang were nominated by Stephen Kampe, the St. John Professor and chair of the materials science and engineering department.
Kampe called Peng's work "incredibly thorough in scope and rigorous in its approach." He noted that Hwang has researched microwave steelmaking for years "and has become a renowned authority on environmental and sustainability issues within the materials processing industries.
"This project represents an excellent fit with Dr. Rath's vision of this award," Kampe said.
The researcher did theoretical and experimental work on the use of microwaves to heat materials, particularly magnetic substances, and offered ways to improve microwaves' heating efficiency. They also provided guidelines for making large-scale microwave furnaces for industrial use. Peng's dissertation research was an integral part of three grants totaling $2.6 million.
Their work has led to five books, 25 papers and invitations to prepare books on microwave heating.
In support of the nomination, Dinesh Agrawal of Penn State wrote that Peng's work "will surely accelerate the development of microwave heating for various applications in the field of ceramic and metallic materials, organics synthesis, biomedical treatments, etc." And Jian Li of Canada's CanmetMATERIALS research laboratory wrote that Peng's dissertation reveals "great potential in energy saving and environmental safety."
Mingming Zhang of the Canadian steel and mining company ArcelorMittal wrote that Peng's research "attracted my attention because of its huge potential in energy savings and environmental protection compared with conventional technologies," adding that the achievement is all the more remarkable because steelmaking consumes more energy than any other industry. "Moreover, there is a great possibility to substantially reduce the CO2, SOx and NOx emissions, contributing to an environmentally friendly world," Zhang said.
Peng's solid foundation in math and science and his interdisciplinary approach have been key to the project's success, said his advisor. "He is not afraid of challenges, and he willingly took courses from other departments that advanced his research," Hwang said. "By combining knowledge from several disciplines, Zhiwei has developed a new field of research."