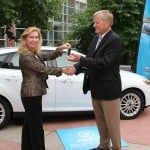 Ford Motor Company has donated a 2012 Focus all-electric vehicle to the Department of Electrical and Computer Engineering. The department is supplying the vehicle to the Hybrid Electric Vehicle Enterprise, providing students the opportunity to experience and work on state-of-the-art electric vehicle technology.
The Focus is Ford's first full-production, all-electric passenger vehicle. Its electric powertrain uses a 23 kilowatt-hour, liquid-cooled lithium-ion battery pack, which delivers a range of 76 miles before recharging.
Birgit Sorgenfrei, a Michigan Tech ECE alumna and global PTI material cost manager of powertrain installations at Ford, will present the vehicle to Tech in a ceremony at 5:30 p.m., Wednesday, Sept. 18, in front of the Dow Environmental Sciences and Engineering Building.
"We are tremendously grateful to Ford for this donation, and I am excited about the continuing relationship between Ford and Michigan Tech that it represents, said Dan Fuhrmann, chair of the Department of Electrical and Computer Engineering. " It says a lot about the value that companies like Ford see in what our graduates bring to the workforce. It also says a lot about the changing, and increasing, role that electrical and computer engineering will play in the automobiles of tomorrow."
Associate Professor John Lukowski (ECE), co-advisor of the Hybrid Electric Vehicle Enterprise, spoke with Sorgenfrei while she was visiting campus two summers ago. She asked Lukowski how Ford could help support Michigan Tech's programs. "I asked for assistance in building a cutting edge 'sandbox' for my 'kids' in the Hybrid Electric Vehicle Enterprise and the Automotive Computing Enterprise to play in," he said. "The donation of a 2012 Ford Focus BEV (Battery Electric Vehicle) is the culmination of a shared-vision initiative, providing a platform to excite and expose students to emerging and rapidly evolving technologies."
"Many institutions of higher learning feature programs that include extensive modeling and simulation of vehicle components, subsystems as well overall vehicle performance," Lukowski went on to say. "But only the best have a physical laboratory where the computational results can be validated. The Focus will be our rolling laboratory. The vehicle will provide the environment where students can instrument, measure, test, wrench, tinker and tweek to modify and optimize performance as guided by their modeling and simulation. This provides the practical, hands-on experiences facilitated by strong faculty-industry partnerships that makes our programs unique and truly world class."
Michigan Tech and Ford Motor Company have had a partnership dating back at least to 1954. Ford Motor Company and the Ford Motor Company Fund have supported a wide range of activities across campus including scholarships, capital projects, Senior Design and Enterprise programs, student organizations, sponsored research, advisory board membership, recruiting support, youth programs and, diversity initiatives.
"Ford is proud of its longstanding relationship with Michigan Tech and supports the school's commitment to developing the next generation of electrification engineers," said Gil Portalatin, Ford global electrified programs engineering program manager. "We are pleased to donate the Ford Focus Electric to the school to help further the educational experience of its students."
Watch a video of the Presentation on Michigan Tech Engineering Channel