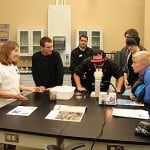 2013 Lake Superior Water Festival at Great Lakes Research Center on Thursday, October 17
High school students from the five western UP counties will spend today at Michigan Tech's Great Lakes Research Center, learning about the Great Lakes, water research and careers they might consider in science, technology, engineering and math (STEM). The Water Festival is sponsored by the Western UP Center for Science, Mathematics and Environmental Education, based at Michigan Tech.
Presentations start at 8:45 a.m., in the GLRC and continue until 2:50 p.m.
More than a dozen scientists, students and representatives of groups involved in Great Lakes conservation will make presentations to the high schoolers. They include professor Marty Auer (CEE); Associate Professor Nancy Auer (BioSci); Assistant Professor Nina Mahmoudian (ME-EM); Operations Manager Robert Handler (SFI); director of operations Mike Abbott (GLRC); Adam Johnson, assistant director of corporate partnerships; Andrea Bal, Engineers Without Borders; Chad Norman, environmental science educator; Anika Kuczynski and Jen Fuller, environmental engineering graduate students; Karena Schmidt, laboratory supervisor (SFRES); SOAR Dollar Bay High School Enterprise students; Lake Superior kayakers Matt and Hannah Abbotts; and Nathan Miller and Pat Toczydlowski, Keweenaw Land Trust.
The goals of the Water Festival are to motivate high school students to study STEM fields in college, to introduce them to a variety of STEM and Great Lakes-related careers, to encourage Great Lakes stewardshp and to showcase Michigan Tech's new Great Lakes Research Center.
The Water Festival is funded by the Michigan Space Grant Consortium, Michigan Tech Center for Water & Society, and Great Lakes Stewardship Initiative and coordinated by Michigan Tech Center